By Haroon Balogun
DISTURBED by the ongoing feud between presidency and Senate, Imams across Jigawa state have commenced offering massive prayers for Almighty God intervention.
Investigations have revealed that virtually all the Jumaat Mosques in Dutse metropolitan, hold sermon and special prayers over the crisis between the Presidency and the Senate with the recitation of a special Alqunut which was observed against those behind the feud.
Most of the Imams opined the crisis was self centered, unnecessary and tantamount to create more hardships to the common man and further jeopardize the political and economic development of the country.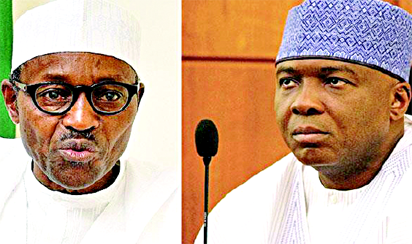 However the clerics faulted the Senators for abandoning what they were voted for, saying they instead engaged in using their position for personal vendetta and pursuing personal interest as against the collective interest of the nation.
According to the Imams: "instead of the senators to concentrate on making laws and supporting the good policies of President Buhari, such as working on budget, economic programs, war against corruption, improving revenue generation among others, the lawmakers are engaging in acts capable of  discrediting the image of the Senate.
In his sermon the Chief Imam of Old Government House Dutse, Ustaz Zakariyya expressed concern on how the Senators are handling crucial national interest by alleged allowing personal interests to influence their decisions.
The cleric also pray Almighty Allah to protect the government of Muhammad Buhari against its detractors that are all out to pull it down for their personal interest.