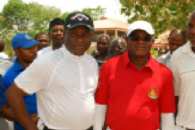 SET FOR TEE OFF – Former Senate President, Senator David Mark (right) poses with Ben Etiaba, the newly elected Chairman of Enugu Sports Club before the tee-off at a Golf tournament in Oturkpo, Benue State.
Former President of Nigerian Senate, Senator David Mark was at the weekend named as Life Vice President of the Professional Golfers Association of Nigeria (PGAN).
The famed green jacket was slipped on Senator Mark to commemorate his 69th birthday by PGAN Director Samson Lawal, assisted by former Minister of Interior, Abba Morro, former DG NAFDAC, Dr Paul Ohi, Chairman of Enugu Sports Club, Ben Etiaba and Mrs Helen Mark.
Lawal said the Nigerian golf body resolved to honour Mark in recognition of his philanthropy for professional golf, and for setting a well equipped golf academy where free tuition is offered the young ones.
"He single-handedly built and maintains a golf course for public use free of charge. He has alleviated poverty and provided employment to the public through the numerous tournaments he has sponsored," Lawal said.
South Africa based Andrew Oche Odoh, blitzed the Otukpo Golf and Country Club to win the David Mark @ 69 Golf Tournament over the weekend.
Odoh eclipsed other challengers by winning with an aggregate score of -21 under par over 72 holes, which is a new course record for Otukpo.
Ghanaian veteran Emos Korblah, tied for second position with Chidi Tobias, 19-shot of the pace.
"There are great players out there in Nigeria, but to put that number together was not an easy feat. A huge lead gave me the advantage and it has been a long while since anybody won a tournament in Nigeria with such an emphatic lead," Odoh said.
Elisha Markus finished fourth at 2 over par, four shots ahead of Kabiru Mohammed, who placed fifth.
Daniel Pam grossed at 5 over 293 for sixth place, while Sunday Olapade carded 6 over par 294 for the seventh position.
Martin Odoh, Najeem Sofela and Sunday Ideriah finished in three- way tie for eighth at seven over par.