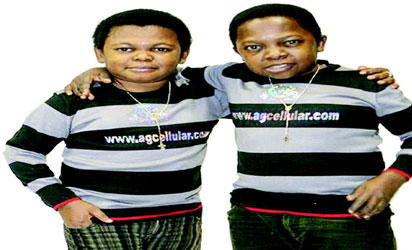 Pawpaw and Aki
By Prisca Sam-Duru
Chinedu Ikedieze(MFR) a.k.a Aki, is a unique comic actor, best known for acting alongside his look-alike, Osita Iheme in most movies. In this interview, the distinguished Abia State-born actor who hit limelight after featuring in the movie Aki na Ukwa, clears the air on the controversy surrounding his quarrel with his screen-twin, Pawpaw, his family among other issues by our reporter.
You look mischievous in most of the characters you play in movies. What's your disposition?
I'm just myself, Chinedu Ikedieze, MFR. Knowing who I am and where I'm coming from, helped to build the basics of my personality. I'm just being professional. Besides, I can only be someone else in a movie.
Did you become an actor by accident?
Primarily, I wanted to be a doctor or a lawyer. Somehow, fate played a smart one on me and I found myself riding in a more benign career (becoming an actor).
During your fight with Osita, were you at any time, paired in any movie, how did you pull through acting with someone you were not in good terms with?
We've never fought before!
But your relationship with him is not cordial as it used to be..?
Again, I say, we've never had any fight! Osita is my friend and brother and still remains that. I really don't no where all these information are emanating from. People should just leave us alone. You guys are always creating unimaginable things. To clear up any misconceptions you might still have, please watch out for Aki and Pawpaw live in UK this summer.
You've been at the centre of some harsh rumours; your rumoured death, and separation from your wife, how would you say the media has treated you?
Well, thank God you're talking to me now and not my photocopy. It's unfortunate that's the kind of journalism some unscrupulous elements are practicing now. When every Tom, Dick and Harry is a blogger what do you expect. But then, for the very professional ones, they've treated me nicely and as best as they can. I remain grateful to them.
So, what has kept your marriage going?
Grace!
Is your wife still comfortable with your career as an actor. Has she had reasons to be jealous watching you in a romantic movie ?
There's no problem with that.
The presence of a father in the home is priceless, how do you make up for the time you spend on locations?
When I am not on location, I'm home doing my duties as the father of the house.
What plans do you have to keep your fame afloat when your face no longer sells films?
For now it's still selling, until then…I'll multitask.
Any plans to go into movie production?
I'm already a producer.
What kind of roles will you never be seen acting?
I reject roles that are not befitting. As a role model to millions of people, I accept roles that have positive influence on my fans and the entire world.
Is acting still paying your bills especially with the current hardship in the land?
Yes o! Acting is still paying my bills.
If not acting, what will you be doing?
I am also an entrepreneur. Also, there are one million and one ways to make a living from the entertainment industry either directly and indirectly.
What is the one thing that you will never be found doing or wearing in public?
What the public wouldn't want to see me do or wear.
Any regrets becoming an actor?
No regrets at all.
What are your views on how to keep growing the movie industry?
By training and sensitizing practitioners. It's important that government creates more conducive environments for the entertainment industry, through the creation and enhancement of more channels of distribution. There should as a matter of urgency, be a formidable coalition with the authorities to curb piracy.