…as SNA, NGA honour him
By Japhet Alakam
One of the founding fathers of Nigerian art, Pa Timothy Adebanjo Fasuyi will be 82 on Wednesday. He was one of the pioneer students of Nigeria College of Arts and Science , now Ahmadu Bello University, Zaria, an art teacher,  Artist, an educationist, former Federal art adviser who took over from late Ben Enwonwu in 1969, he established the first cultural centre, TAFAS cultural centre in Lagos and was instrumental to the development of art and culture in Nigeria.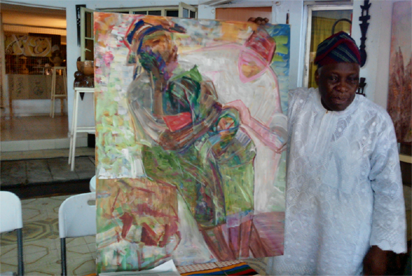 In line with one of the stanzas of the national anthem which read,  "the labours of our heroes past shall never be in vain" the Nigeria art community, the Society of Nigeria Arts SNA, the National Gallery of Arts and family and friends of Pa Timothy Adebanjo Fasuyi  will from Monday roll out drums in celebration of the man, who gave all to the arts, for his contributions to the development of arts in Nigeria.
The activities will feature an exhibition, presentation of the first publication of his life, works by the National Gallery of Arts, a colloquium by the Society of Nigerian Artists, art competition and others.
Addressing the press recently, Pa Fasuyi disclosed that the programme which will all take place at Resource Place, 1 Badagry Street, Akon Villas, Ikeja will kick off tomorrow, with a colloquium organised by the Society for Nigerian Artists (SNA) on the theme, Retrospective-Sixty years of Easel Experience.
The event which will be be chaired by Justice S O Ilori, will have Prof Adamu Beikie, first Nigerian Artist to become a vice chancellor as the special guest of honour, while Price Yemisi Shyllo, Chief Joe Musa, Alhaji Abdulahi Muku, DG National gallery, and Chief Yinka Fasuyi as special guests.  On Tuesday, there will be a panel discussion on theme, Adebanjo Fasuyi;His contributions to Art Education In Nigeria, it will be chaired by Prof Bruce Onobrakpeya while the discussants will be Mr Kolade Oshinowo, Mr Oliver Enwonwu, Dr Simon Ikpakoronyi, Prof Jerry Buhari, Mr Mike Omighe and Mr Benard Aina. This will be followed by a thanksgiving service on Wednesday and on Thursday, a drawing competition among students in higher institutions in Lagos for the Fasuyi Prize and ends on Saturday with the AGM SNA Lagos by 3 pm and dinner with artists and friends in the evening.
One good thing about Pa Timothy Adebanjo Fasuyi is that even at 82, he is full of life and still painting. For the very fact that he does not want his labours to be in vain, he is also marking his 82 birthday with a historic art exhibition tagged 60 years of Experience with the Eazel and relaunching of his gallery TAFAS Legacy Gallery, taking it to where it was 40 years ago so as to house his permanent collections for posterity.
The exhibition  will feature 82 selected works, spanning over 60 years since he graduated from Ahmadu Bello University, Zaria. The works reflect Nigerian culture,contemporary issues, educative and illustrative of Nigerian life in general. Some of the works to be displayed are old works done during his student days and current works that talk about contemporary issues, they include Ghana must stay, Mixed Feelings, Did you rape me,  Unknown Soldier at IDP camp, The burden of African women, Even the gods are hungry, Angry youths and many others.
Speaking about the works, Fasuyi who stated that there is no age in creativity said that he is overflowing with ideas, so he releases them at will.
"All these works are mine; they are what I have done over the years. You don't grow old and out of creativity; I will still be painting after this exhibition and I want the younger ones to know that age is not a challenge to creativity," he added.