By Dennis Agbo
Roads transport magnet and Chairman Peace Mass Transit Limited, PMT, Dr. Sam Onyishi has advocated for federal government's intervention on roads transportation in Nigeria.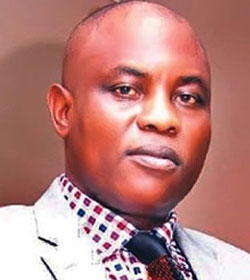 Onyishi said that whereas the government frequently intervenes in aviation and other means of transportation sectors, road transportation had been over looked.
He however appreciated the federal government's augmentation through the defunct SURE-P but observed that lack of proper consultation on  roads transport players had led to hiccups in the sector.
Onyishi spoke in a press conference in Enugu, yesterday, where he unveiled the recent Toyota award received by PMT as the best customer in Nigeria for 2016. He noted that over 90 percent of Nigerians commute through roads but that little intervention has been received by the sector when compared to the interventions in other means of transportation.
Onyishi stated that no less than 3000 buses are in PMT fleet , with about 2000 plying Nigerian roads on daily basis from 60 motor parks spread across the country.
He also disclosed that PMT has embarked on safety standard measures to forestall crashes and body injuries if accidents occurs.
Some of the measures, he disclosed, include increased staff training , installation of speed limiters in all buses, compulsory use of seat belts in all seats, use of double propeller buses, among other measures.
He displayed the commemorative plaque presented to the company with N2 million  cash prize by the Toyota representative  and major dealer in Nigeria, Chief Michael Ade-Ojo of Elizade Group.