•Female victim escapes being raped, dispossessed of handset
•I was thrown out of moving bus
By Bose Adelaja
Uzor Philip was carrying two bags containing  valuables and  awaiting a bus going from Oshodi to PWD area of Lagos at about 6pm oblivious of what to happen next. Being the rush hour, the area was crowded as people availed themselves of every opportunity to return home after the day's business.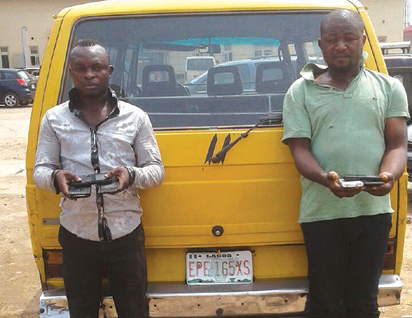 Suddenly, a pick and drop  bus, with  number plate EPE 165 XS, approached and stopped. Philip was the first to enter and sit  behind the driver but was persuaded to pair with somebody at the front seat.
On arriving Ladipo, the bus conductor  apologized that the front door was faulty, saying there was  need to quickly 'fix' the problem. The  driver slowed down and the 'co-passenger'   pushed Uzor out even while the bus was still in motion, leaving his two bags and cell phone (Techno W2) behind. The bus immediately made a  u-turn and headed back to  Oshodi. That was when it dawned on Philip that he was a victim of 'one-chance'  and he raised the alarm which attracted some uniformed men who launched a chase after the bus. Inspite of their effort, the bus was far ahead of them and they were almost giving up when they sighted a  patrol van  of the Lagos State Task Force returning from an operation and they narrated the story of the attack to them. The Task Force team  went after the bus and caught up with it around Mile 2.
However, one of the suspects took to his heels while the driver and his conductor were apprehended and the bus impounded by the Task Force. 50 cell phones and other valuables were recovered from the bus.
On switching on some of the cell phones calls began to come in from their owners and the Task Force requested their physical presence, for identification.
Speaking with Sunday Vanguard, one of the victims, whose mobile phone (Alcatel Pop Star 5) had been snatched,  Ajimati Adeyemi, 33,  said he joined the bus with other passengers along Mile 2 when the conductor and one other person, dressed in 'black suit', suddenly stood up and collected all their cell phones and wallets before they were forced down at different bus-stops before Mile 2. He said, "I was surprised when I called my mobile line and I was told to come to Lagos State Task Force at Bolade, Oshodi where it was returned to me along with others."
A female victim, Yewande Adeboye, who claimed to have been seriously injured after she was pushed off by the bus conductor, said she was  sexually assaulted and nearly raped before her mobile phone was snatched at Rainbow Bus-stop along Apapa-Oshodi Expressway, Lagos.
Another victim, Razaq  Rasheed, said he boarded the bus from Anthony to Hassan Bus-stop, also on Oshodi-Apapa Expressway, but ended up being pushed off the bus mid- way into the journey after he had been  dispossessed of his phone. He said, "I boarded the bus from Anthony but  the conductor and driver distracted my attention saying they were no longer going in that direction. I later realised my phones had been snatched. Thank God they were both apprehended."
The Chairman of the Task Force, SP Olayinka Egbeyemi, said  the operation was carried out after a victim reported that he was robbed inside a commercial (Volkswagen) bus and a Task Force enforcement team with KAI officials were deployed to chase them and they were apprehended around  Mile 2 area with 50 different stolen mobile phones.
Egbeyemi told Sunday Vanguard the robbers had  been charged to court and convicted while the recovered items had been returned to their owners  on 'bond' after a thorough  screening.
The Chairman enjoined members of the public to always report  illegal and criminal activities around them to  law enforcement agencies.
In their  statements, the convicts, Chuckwudi Ezeudo, of No. 1, Ezeudo Lane, off Babarin Street, Ajegunle, and Mr. Wilfred Ukpo, of No. 1, Ajose Street, Ajegunle, Olodi-Apapa, Lagos, confessed they had been using the bus to rob commuters around Lagos.
They confessed they daily operated in different parts of the state like Obalende, Orile, Pen-cinema, Ojota and  environs and any passenger who refused to cooperate with them would be  beaten and thrown out of the bus while still in motion.
"We had been in this business for  a  long time and, snatching more than 50 phones and other items daily which we sold as fairly used at Computer  Village, Ikeja  and Ajegunle.
"Sometimes we even indecently assault our victims, especially women."
The Task Force Chairman said the men were each sentenced to seven years imprisonment after they both pleaded guilty to the one count charge of 'conspiracy to steal contrary to Section 409 of Lagos State Command Law of 2011' levelled against them.
Magistrate Lateef Owolabi, of the Lagos State Mobile Court, Oshodi, said the seven  years jail term without option of fine was to serve as deterrent to others still into  criminal
Subscribe for latest Videos