Dayo Johnson, Akure
THE 26 members of the Ondo State House of Assembly again failed to hold plenary session yesterday over disagreement that the minority party cannot produce the speaker.
Their coming together yesterday after two months over leadership tussle could however not produce any desired result.
Although a parliamentary meeting took place to resolve their differences, they disagreed that the APC which has ten out of the 26 members of the House  should produce the speaker and deputy.
The opposition PDP has 16 members in the assembly.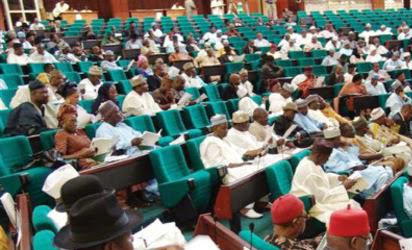 The PDP had 21 members before it became an opposition party but five defected to the ruling APC last week .
The new Speaker, Bamidele Oleyeloogun and his deputy Ogundeji Iroju formerly of PDP last week jumped ship to the APC.
Saturday Vanguard gathered that the plenary session was cancelled due to the fears that PDP members could raise a point of order over the composition of the principal offices of the Assembly.
One of the lawmakers told Vanguard that "Order 2 (a) of the House of Assembly rules states that the Speaker and Deputy Speaker must come from the majority party in the House as the case may be.
The fear that the planned joint plenary session yesterday might degenerate into a fresh crisis necessitated its cancellation by the new principal officers
It was gathered that the lawmakers have adjourned sitting  till next week Tuesday for another parliamentary meeting and plenary session.
However, there are moves by the ruling party to work on some PDP members to defect to the APC so as to have the needed number to sustain their hold on the Speakership.