By Chinonso Alozie
Owerri—Governor Rochas Okorocha of Imo State, yesterday, handed over the responsibility of paying pensioners in the state to the State Development Committees, SDC, at the ward level.
Okorocha disclosed this through a release issued to newsmen in Owerri, by his Chief Press Secretary, Mr. Sam Onwuemeodo.
According to the release, the pensioners have no business coming to Owerri to collect their pension anymore.
It said: "Governor Rochas Okorocha has inaugurated what his government christened State Development Councils, SDC, Coordinators or  mini governors and their members for the 305 Independent National Electoral Commission, INEC, wards in the state and the idea was to take governance to the grassroots .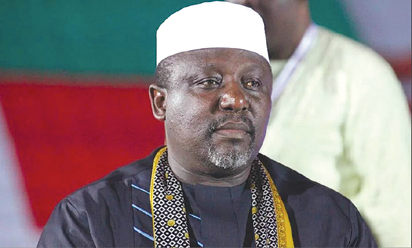 "Each ward has 21 SDC Committee members with a coordinator who would carry out functions in the wards as the representatives of the governor."
"The SDC will be paying pensioners in their wards instead of the pensioners coming to Owerri for their pensions and that would save them from undue inconveniences.
"The governor also said they will carry out renovation of schools, supervision of government's Health Centres, schools and other public establishments adding that they will equally monitor security developments in their wards.
"They are new form of government that brings down administration to the grassroot for the purpose of development, adding that it is the link between the state government and the people.
"With SDC in shape, the issue of insecurity will be a thing of the past because it will be an insult for a well structured security to be in place and a criminal from another village will be terrorizing them. Security will be double assured with the introduction of SDC."