By Simon Ebegbulem
OKOMU- THE call by Governor Godwin Obaseki of Edo State on companies in the state to discharge their corporate social responsibility, CSR, to their host communities has started yielding dividends with the Okomu Oil Palm Company PLC, operating at Uhumwonde, Ovia South West and Ovia North East Local Government Areas, taking the lead by rolling out 27 projects in one plunge.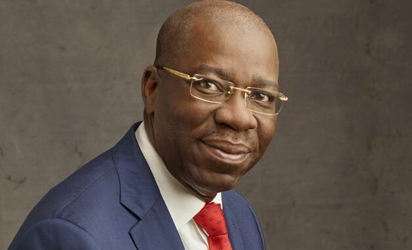 It inaugurated five projects in three communities in Ovia North East, including the Enogie's Palace, modern market and the renovation of Odiowere's residence at Odighi community, while a modern town hall and an ultra-modern market were commissioned at Odiguetue and Uhiere communities respectively. Others are two water bore holes at Udo, renovation of engine room at Udo,  bore hole at Obagie/Udo, construction of mini sanitary pavilion at Obagie/Udo, water bore holes at Safarogbo, all in Ovia South West.
Also commissioned were rural electrification at Madagbayo, water borehole at Gbole-Ubu, cassava mill at Gbole-Ubu, provision of teachers living quarters at Iniikorogha, renovation of DPO Quarters phase 1 and 2 at Iguobazuwa, fencing of Ekiadolor Police Station phase 1 and 2, construction of royal palace guest house of Iyasere palace at Ofunama, drilling of water bore hole/stanchion at Udo, provision of 40 chairs and desks at Owan in Ovia North East, South West and Uhunmwode local Governments respectively.
We're finalizing 2017 projects – Hefer
Managing Director of the company, Dr. Graham Hefer, who led the company's management on the commissioning spree, declared that it will continue to fulfill its social responsibility to its host communities, adding it was already finalizing the projects for the 2017 fiscal year for the host communities. "The communities' cooperation and peaceful partnership with our company have translated to a better business environment for us and this we will continue to appreciate and reciprocate. It is the desire of the company to ensure even development of its host communities with annual budget running into millions of naira.
Skill acquisition training
"We also have scholarship programme for those who gain admission to the universities and polytechnics throughout the duration of their courses in the 25 communities while some are already undergoing skill acquisition training in various areas. We are happy to grow together with the communities. As Okomu grows, so should the communities, especially when restiveness and anti-development tendencies of some youths are not allowed to fester unrestrained," he stated.
Ofunama, Nikorogha grateful, ask for more
Commending the oil palm firm for the kind gesture, the people of Ofunama and Nikorogha communities in Ovia South West where the company commissioned a town hall and a hospital, speaking through the chairman of Ofunama community, Comrade Biebitel Commander, told the company's managing director, Dr. Hefer, "you are indeed our brother, you have made us proud, you have done good for us."
They appealed to the company to reconsider its earlier stand not to repair the road leading to the community, lamenting that though the company had always reconstructed the road anytime it failed, the activities of timber-logging vehicles have continued to cause damage to the road.
Communities lack maintenance culture – Okomu boss
But reacting swiftly, Dr. Hefer regretted that some communities have failed to protect projects constructed by companies in their domain, stressing the need for communities to cultivate maintenance culture.  He further commissioned the perimeter fencing of the Egbema Secondary School, Ofunama and called for its proper maintenance by the people and the school authorities.
Hefer announced that its skill acquisition programme has been extended from one month to 12 months for welding, GSM repairs, carpentry, among others, pleading that women and youths should always come up with ideas of projects most needed in the communities so as to prioritize them for the interest of the people.