By Vincent Ujumadu
AWKA— FORMER national chairman of All Progressives Grand Alliance, APGA, Chief Victor Umeh, weekend in Awka insisted that the immediate past governor of Anambra State, Mr. Peter Obi, was not his political rival because he (Umeh) was not contesting any political office with him.
Addressing reporters after being conferred with the Papal Knight of St, Sylvester, KSS, by the Catholic Bishop of Awka Diocese, Most Reverend Paulinus Ezeokafor at the St. Patrick's Cathedral, Umeh also said that there was no war between them as both remained brothers.
Umeh said: "Former Governor Peter Obi is not my political rival because I am not contesting anything with him. If you are referring to the senate seat of Anambra Central, he is not my rival because he did not contest for senate in 2015.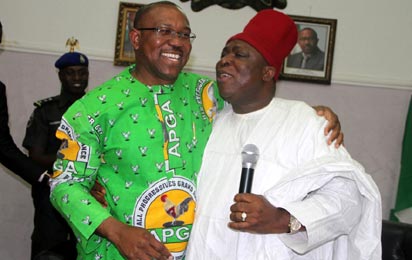 "He will not take part in the outstanding election and so, there is no way he can be my political rival. I will rather say that he benefitted from me politically because when he served Anambra State for eight years as governor, I stood by him.
"He remains my brother and there is no war between us, but I think that what he is doing is misplaced and it has nothing to do with our relationship as Christians. Christianity is a race where you do not hold forth for anybody. Someone might think that what he is doing is right, but it is only God who justifies our actions.
"In my relationship with people, I try to do those things I was asked to do as a Christian when I was growing up. Even when somebody wants to pull me down, I don't look backwards."
Umeh also expressed dissatisfaction over the intrigues trailing the conduct of the Anambra Central senatorial rerun of which he is a candidate.
Vanguard recalls that Umeh had challenged the result of the senatorial election at the election petition tribunal after the Independent National Electoral Commission, INEC, declared Mrs. Uche Ekwunife of the Peoples Democratic Party, PDP, winner of the Anambra central senatorial election.
Having lost at that level, he approached the Court of Appeal, Enugu Division, which nullified the judgment of the tribunal on December 7, 2015 and ordered for fresh election in the district within 90 days.
The court also barred Ekwunife of the PDP from participating in the rerun, which made Ekwunife to further pursue the matter up to the Supreme Court without success.
The PDP led by the former governor, Obi, also took the matter back to a Federal High Court Abuja, contending that the PDP must participate in the court ordered poll. Justice Chikere, who presided, ordered INEC to accommodate the PDP  in the rerun.
However, INEC had appealed the Federal High Court judgment, contending that from precedents, a party whose candidate was disqualified in an election could not participate in the rerun.