By Simon Ebegbulem, Benin City
GOVERNOR Godwin Obaseki of Edo state has vowed to ensure that the state owned football team, Bendel Insurance is promoted to the elite division come next season, assuring that the club will be given all the support and incentives to perform.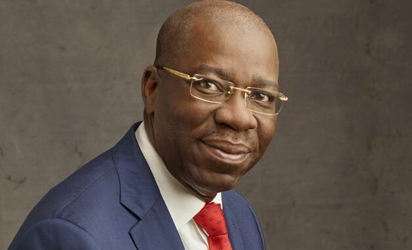 He stated this shortly after the club played a 1-1 draw with visiting Warri Wolves FC, weekend. It would be recalled that the governor had watched the Edo based team defeat Papilo FC of Owerri at the Samuel Ogbemudia Stadium in Benin City, and had, afterwards, promised the team a winning bonus of N1m.
After holding table-toppers, Bayelsa United to a draw two weeks ago, Bendel Insurance FC was also held to a draw on home turf by Warri Wolves FC.
However, Obaseki asserted that despite the draw played by the team, his administration would provide incentives for them to get back to their winning ways.
"I know Bendel Insurance FC is not in its top form currently, but they can do it. In terms of technical ability and players, they can fight for the top spot and challenge all the other big teams. Even some of the best teams in Europe have slumps mid-season and so I thank God that ours came early and we are not losing; we are drawing," he said.
He added that each of the players were important and played key roles in improving the team's tactics and winning games to boost confidence, disclosing that he was sure the players could put in stronger performances in subsequent matches.
"After watching them play, I cannot deny that they have the ability to qualify for the big leagues at the end of this season. I saw their attack and their defence and the way they play in close formation. I am ready to support the team, but the team also has to improve and play with more discipline. They need to own the midfield and control possession. The state government is convinced the team can be the best in Nigeria and Africa, and we will support them accordingly".