THE Group Managing Director, NIPCO Plc, Mr Venkataraman Venkatapathy, has outlined measures being put in place by the majority shareholders of the newly acquired ExxonMobil 60 percent equity stake in Mobil Oil Nigeria Plc to make the deal a game changer in the petroleum downstream sector.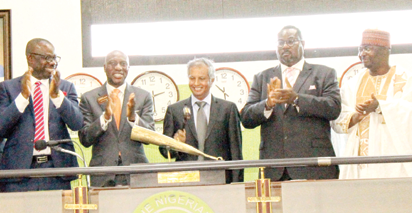 Venkatapathy stated at the Nigerian Stock Exchange, NSE, on the invitation of the Exchange to celebrate the successful completion of the largest acquisition witnessed in the Nigerian downstream oil sector.
He said the acquisition which marks NIPCO 's avowed resilience in the Nigerian economy will see a significant expansion in the production of lubes and ensure its availability across the country in a manner not seen before and thus making the company bigger .
''As an efficient oil marketing company ,NIPCO acquisition of MON majority shares would also bring economies of scale  to the firm ,benefitting Nigerians and grow the economy further " Venkatapathy declared.
Majority shareholding
According to him, the visit to the Exchange being the first public appearance after the attainment of majority shareholding in MON offered veritable opportunity to share thoughts with the bourse on the milestone and the Group efforts to assure investors  of immense benefits "To all discerning investors the deal is a big welcome to a new dawn and a new era that will usher in stability, prosperity, sustainability and growth in the downstream sector in particular and the industry in general,'' he said.
Earlier, the Chief Executive Officer, NSE, Mr Oscar Onyema, said the ceremony was organized to support and recognize the recent milestone of NIPCO especially the acquisition of majority shareholding in MON .
He expressed great optimism that the deal which remains a major landmark event in the oil industry would add value to the sector as well as increase the confidence of investors.