It is a matter  not only of contemplation but national pride for me since the decision to host Africa's prime maritime conference in Nigeria this year. So the efforts to get Abuja ready with all the logistics and detail has been a labour of love. So today we are ready.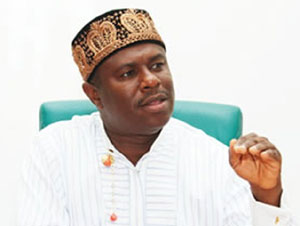 That is why it is my pleasure and that of the entire maritime community in Nigeria to welcome all maritime stakeholders from around the globe to Abuja, the scenic capital city of Nigeria. We consider it a privilege to host this important conference that embraces Africa's maritime elite, the men and women who determine when, how, what and who to sail on the high seas and ocean . I am referring to the regulators, policy implementers and stakeholders, the crème de la crème of Africa's waterways who work together in a bubble of ideas and innovation for our continent. They chart the seas and oceans to optimize their benefits for the development of our people.
There is a reason Nigeria has waited with bated breath for this day and year to host this all-important gathering.  This conference should have held here in 2014, but the ravaging forces of the Ebola epidemic scared all. So, we couldn't. Today is a great day to hold it, and in the words of Winston Churchill, a great day is today to do so.
All-important  gathering
That scourge has been cauterized. So I am particularly delighted that this conference, the 3rdin the series, after the first in Mombasa, Kenya and the second in Sandton, South Africa, is holding anchor here on our shores.  Nigeria's place in the maritime world is not only deserved, it is common knowledge. It is special in the maritime community in Africa for a number of reasons. Nigeria accounts for over 60% of the total seaborne traffic in volume and value in West and Central Africa region.  As the sixth largest OPEC exporting country and Africa's foremost oil producer, we contribute significantly to the global energy supply and what is known as wet cargo traffic.  Nigeria's signature adorns all continental maritime initiatives and charters that seek to promote the development of the industry in Africa and protect our seas and ocean . That is a measure not only of our potential influence but also wealth for our people . No one is in doubt that nature gave us an edge by reason of natural endowments.
We are geo-strategically located as a major littoral state in the Gulf of Guinea. We sit on a coastline of 853 kilometres that taps and caters to a landmass of 923,768 square kilometres.  By reason of our population we are a major market destination with attendant potential for commerce . By all estimation, we are a leader, high on the crest of maritime nations, determined to advance African maritime prosperity. So, hosting a conference of the continent's maritime administrators is overdue.
It is no coincidence that this conference of maritime administrators and stakeholders is coming two years after African Leaders through the African Union subscribed to seven (7) key aspirations encapsulated in the Agenda 2063 at Addis Ababa, Ethiopia in January 2015 and three years after the adoption of Africa Integrated Maritime Strategy (AIMS) 2050. Nigeria was a major part of that story.
Adoption of Africa  Integrated Maritime Strategy
Only recently, to further reinforce the critical role maritime can play in the development of Africa, the African Union (AU) special summit of heads of government in Lome, Togo, 15th October, 2016 aligned with us. The summit where Nigerian delegation was led by Vice President Yemi Osinbajo, the Heads of government adopted a Charter on Maritime Security, Safety and Development. That singular watermark lay a foundation for making Africa's maritime space the buoy of the continent's development not only in terms of a secure waterway but also to boost its socio-economic existence. The charter  was endorsed by 43 out of 54 African nations including our country.
The Association of African Maritime Administrators (AAMA) was inspired by African Union maritime transport charter and it provides the continent through the stakeholders like us in maritime sector, a seabed to craft a raft of charters adopted by our heads of government). They include AIM 2050, Agenda 2063 or Lome charter.  AAMA is also a veritable continental institutional framework to discuss maritime governance in our continent, develop an implementation framework for a Pan African maritime policy and strategy, take leadership in controlling our continent's maritime domain and promote intra African partnership to address our peculiar maritime challenges. It is the collective responsibility of all stakeholders to promote new awareness and appreciation of the inevitable role maritime can play as enabler of the economic development of our continent.
When we shall discuss the issue of safety of the seas. At the background of this issue of course, we cannot but bring attention to the challenges of militancy and robbery on the seas in the Niger Delta region of the country. We know what efforts are being made by the federal government to stem the rage of that part of the country, and tangible progress has been made. But a lot of work still lies in our hands.(We can change this part of the narrative for  Nigerian audience).
When the conference confronts the problem of sea trade and fairness, we will know that the lop-sidedness of trade that affects our current accounts picture will come into play. Should we import more than we export when 60 per cent of the trade happens with us on the continent! (We also need to change this narrative).
More issues will come to bear, what is the situation with us and Cabotage laws, how trained are our men and women to tackle modern challenges?
This conference will bring attention to it and make Nigerians focus on what will make us Africa's mistress of the sea.
It is time to make long-term investments. Ours is an economy of great potential. In the era where we are focusing on the agricultural amenity of our people, it is also time to see how we can turn potential into prosperity. There are many Nigerians who are coming up with new ideas, with entrepreneurial audacity to dare and challenge the world with what we have to offer.
This sort of conference with its eye on how to make Africa assert itself in global commerce will afford us with a view of the sea.
For Nigeria, it is also an opportunity to look at the maritime environment. With mammoth water derogation, we are not happy that maritime that is plenty with crayfish, and a multitude of other fishes are not easy again. Much of the halcyon time has left us.
A conference like this offers us the chance of renewal, to bring back the profit of water. And where to start that but here, on our shores. We are a critical part of the maritime narrative not only on the continent but also in the world. The world wants to sail her to trade and make profit. They should not only make profit but they should make it on our terms.
Bringing back the profit of water
That is why we have an opportunity to showcase our country. Nigeria's image will be immensely helped as the elite of the industry from 33 countries converge to jaw-jaw on the future of water which is the source of much of our life on the continent and livelihood and prosperity.
Let me particularly appreciate the enormous support we received from the International Maritime Organization (IMO) in hosting this conference.  IMO provided both intellectual and financial resources towards the hosting of this event.
I am optimistic that the Abuja conference will sail to its shore, it will mark the beginning of concerted cooperative and collaborative efforts at tackling Africa's maritime administration challenges as well as tapping into our limitless opportunities. Africa's water ways will be better at the end of this conference than it was at the beginning. It is time to set sail.
Dr Dakuku Peterside is  the Director-General, Nigerian Maritime Administration and Safety Agency (NIMASA),