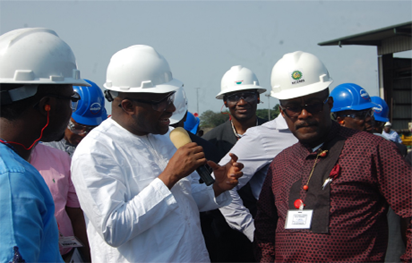 VISIT: From left Mr Femi Omotayo MD AOS Orwell, Mr Omozaphue Akalumhe EDHR AOS Orwell (Middle) and Engr Kesiye Wabote Executive Secretary Nigerian Content Development Management Board (NCDMB) on a facility visit to AOS Orwell, Titan Tubular Facility at Onne, Port Harcourt
By Prince Okafor
IN furtherance of its  renewed effort to encourage Nigerian companies towards exploiting opportunities and value retention in-country in the Nigerian oil and gas sector, the Executive Secretary Nigerian Content Development Board (NCDMB)  Mr. Simbi Kesiye Wabote has applauded AOS Orwell  on its level of investment and in-country capacity.
Wabote stated this in Port Harcourt when he led a team of his officials and other top International Oil Companies (IOCs) on a facility tour of the Titan Tubular Division based in ONNE as part of his facility tour of selected entities in ONNE Trade Free Zone.
Wabote  commended the Managing Director, MD, and his management team on the level of investment and in-country capacity stressing that he was very impressed with the equipment and facilities on ground.
He said that his reason for embarking on the facility visit, was to enable him understand the challenges and prospects of the companies promising that he would work with all stakeholders operators and servicing companies alike to bring down the per barrel and per unit technical cost in the Nigerian Oil and gas industry.
In his opening remark,  the  Managing Director AOS Orwell Mr Femi Omotayo, said: "It was the confidence AOS Orwell had in the Nigerian Content initiative as it then was 20 years ago that led his management to commit to continuously invest in in-country capacity to a point where AOS Orwell is today acclaimed for a series of first among indigenous oilfield players.
"The key words I would like the NCDMB Executive secretary and operators to take away from this visit are "commitment" and "confidence".
Stressing that, AOS Orwell was first to open  Conductor Casing Threading and Welding Shop in Nigeria, first Skid fabrication, first NOV certified Drilling Jar Service Shop, first EXIDA certified Cabinet manufacturing Plant, first to launch Casing Drive Systems,  first Fisher approved valve servicing center, first machine shop, Tubular and OCTG manufacturing adding that all the welders in the workshop are FMC certified.
Titan Tubular (a subsidiary of AOS Orwell Limited) is Nigeria machining and conductor casing company and OCTG repair and manufacturing facility located in FLT Onne on a 30,000m2 space. The facility has nine advanced CNC lathes, bucking machine, phosphating equipment, sub-arc welders and an X-ray weld inspection device. Overhead cranes in the Conductor Casing and Plain End threading workshops facilitate for easy handling of tubular and insure high output capacity.