Naira
By Babajide Komolafe
The Central Bank of Nigeria (CBN) yesterday sold $185.86million at the retail Secondary Market Intervention Sales (SMIS), even as the naira remained stable at N382 per dollar in the parallel market.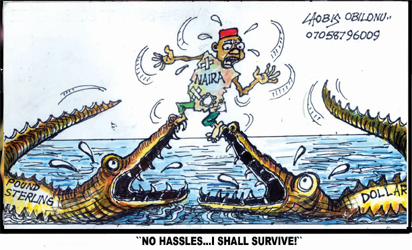 CBN's Acting Director, Corporate Communications, Department, Mr.  Isaac Okorafor confirmed this development disclosing that out of the auctioned amount, only $3.14million was sold as spots, while the sum of $182.72million was sold as forwards.
Okorafor further explained that the overall picture of the inter-bank forex market was that of optimism, going by the level of access now being enjoyed by different categories of customers in both the wholesale and retail segments of the market.
On Tuesday the CBN Governor, Mr. Godwin Emefiele while assuring Nigerians of the imminent end of the current recession in 2017, at the end of his meeting with the leadership of the Senate on Tuesday declared that the apex bank will continue its relentless intervention in the forex market.
Emefiele hinged the optimism of the CBN on the accretion to the country's foreign reserve, which he said currently hovered above the $31billion mark. According to him, "our reserves stand at above $31bn and that provides us enough of firepower or ammunition to be able to defend the currency, and we will do so with all intensity to ensure that foreign exchange is procured by everybody".
Meanwhile, President, Association of Bureaux De Change Operators of Nigeria (ABCON), Alhaji Aminu Gwadabe has predicted that the naira will appreciate to N375 per dollar in the parallel market. He said the persistent of the forex intervention of the CBN as well as the newly introduced forex window will help in reducing dollar demand while boosting supply hence leading to further appreciation of the naira in the parallel market. He said that while the challenge is that some people are still betting against the dollar with the believe that the exchange rate will rise again, and as a result hording the dollar, the continued injection of dollars by the CBN will frustrate their expectations.