By Innocent Anaba & Batholomew Madukwe
lagos—A  Federal High Court sitting in Lagos, yesterday, vacated the order it made, freezing the Guaranty Trust Bank account of Chief Mike Ozekhome, SAN, into which he received N75 million legal fee from the Ekiti State Governor, Mr Ayodele Fayose.
The Economic and Financial Crimes Commission, EFCC, had on February 7, 2017 obtained an interim order stopping Ozekhome from withdrawing the N75 million on the grounds that it formed part of proceeds of alleged criminal activities by Fayose.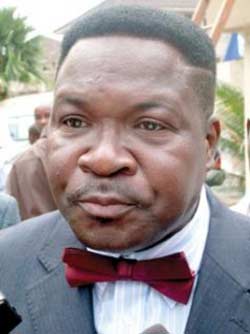 The EFCC claimed that the money which Fayose paid to Ozekhome was part of the N2.26 billion arms procurement funds, which a former National Security Adviser, Col. Sambo Dasuki (retd), allegedly looted.
EFCC claimed it traced N1.22 billion out of the N2.26 billion to Fayose.
On that basis Justice Abdulaziz Anka had on February 7 frozen Ozekhome's account for 120 days.
Dissatisfied, Ozekhome went back to the court and urged it to vacate the order.
In his ruling, yesterday, Justice Anka granted Ozekhome's prayer and dismissed the counter-affidavit filed by EFCC.
The judge said though it was not in doubt that the N75 million came from Fayose, but Ozekhome could not be held liable because there was no restriction on Fayose's account as of the time the N75 million was paid to his law firm.
Justice Anka noted that the freezing order earlier obtained by the EFCC in respect of Fayose's accounts had been lifted by Justice Taiwo Taiwo of the Federal High Court in Ado Ekiti.