As Perm Secretary assures of equipping ENT department of State House hospital
By Levinus Nwabughiogu
ABUJA-Wife of the President, Mrs. Aisha Buhari has urged the government to equip medical facilities across the country with adequate diagnostics to tackle especially, the cases of hearing disabilities.
She also called for improved awareness campaigns to educate Nigerians on how best to take care of their ears, noses and throats.
Mrs. Buhari who spoke on the theme "Action for hearing loss: Make a sound investment" at an event organized to mark 2017 World Hearing Day by the State House Clinic, Abuja on Tuesday said that hearing loss had a negative impact on the affected individuals and the economy.
Represented by Mrs. Mairo Tanko Almakura, wife of the Governor of Nasarawa state, Mrs Buhari said: "The populace must be encouraged to prevent themselves by going for regular screening, and rehabilitating themselves through hearing devices."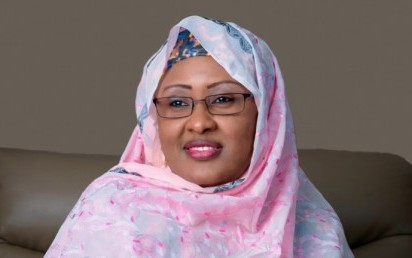 In his welcome address, the Permanent Secretary of the State House, Jalal Arabi called on everyone "to see today, the World Hearing Day as a wakeup call for us all to value and guard this special organ called Ear, to strive to maintain a healthy hearing health.
He counselled that, "since most of hearing impairment is preventable, we should strive not to fall victim. Everyone should do all to improve maternal and child health to keep at bay, preventable childhood diseases that lead to hearing loss."
Arabi also assured of the support of the current administration to equip the budding ENT department of the State House Medical Centre so as to make it a standard and model.
Also speaking, the Medical Director, State House Medical Centre, Dr. Yakassai Munir advised Nigerians to urgently seek medical attention whenever they have ENT related problems.
He said: "It is very important if you have any problem with your ear,nose or throat, see a doctor. Don't go to a chemist for medication, even simple sour throat. Do not take a chance; better see a doctor because losing your hearing will be bad.
"Hearing is one of the most important senses that you have apart from the visual. if you lose it, you have lost the most tremendous part of your life. I think it is very important that people should be aware of  all these ENT-related problems and also to take proper action if they develop any ear, nose or throat problem.
Earlier, the President of the Oto – Rhino – Laryngological Society of Nigeria (ORLSON), umbrella organization for Ear, Nose and Throat (ENT) specialists, Professor Ogb Nwaorgu advocated that Neonatal Hearing screening should be made mandatory in all health facilities to ensure that babies with hearing loss or predisposed to hearing loss are identified early.
He also identified noise as an increasing source of hearing loss, citing chronic exposure to moderate sounds as very dangerous to the ear.
Nwaorgu therefore called for regulation on noise emission, control and abatement, to preserve and maintain public health; specifically citing noise originating from industrial, commercial, domestic, sport, recreational, transportation or similar activities.
The meeting was attended by representative of Minister of Health and Chief Medical Director National Hospital, Dr. Jack Momoh,  Special Adviser to the President on Media, Mr. Femi Adesina and Emir of Borgu, among others.