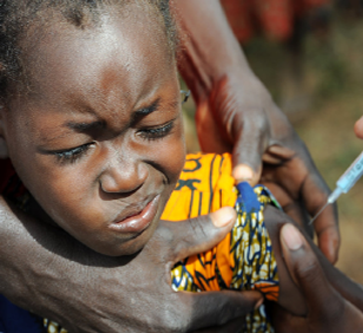 A child being immunised against mennigitis
….as Meningitis spreads in Nigeria
ACCORDING to reports, a deadly meningitis outbreak that started spreading a couple of months ago, has killed more than 400 people. World Health Organisation has also said the type of meningococcal meningitis is a bacterial form of meningitis which is a serious infection of the thin lining that surrounds the brain and spinal cord.
The issue of concern now is that the predominant type of meningitis causing this outbreak is meningitis type C for which there is shortage of vaccines.
As homemakers, though the best way to prevent the bacteria is through vaccination but because of the shortage of vaccines, maintaining good hygiene for your family through regular hand washing is the immediate solution.
How?
Wash your hands before, during, and after preparing food.
Before eating food.
Before and after caring for someone who is sick.
Before and after treating a cut or wound.
After using the toilet.
After changing diapers or cleaning up a child who has used the toilet.
After blowing your nose, coughing, or sneezing.
After touching an animal, animal feed, or animal waste.
After handling pet food or pet treats.
After touching garbage.
Avoid overcrowding. Sleep in well ventilated places.
Reduce hand shaking, kissing