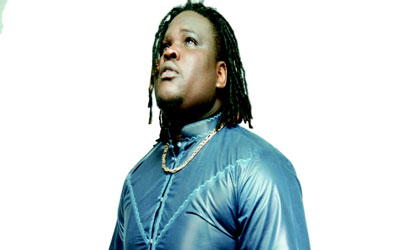 Kola-Bo
By Austine Ngbolu
Nigerian/American born reggae cum dance-hall artist, Ighobaro Amamayaevbo better known as Kola-Bo is a rare breed. At a time   when many African entertainers saw America as the land flowing with milk and honey, the melting pot of showbiz, Kola-Bo held on to his motherland.
This is despite his strong affinity with the land that dubbed God's Own Country. He was born  and raised in America, yet Kola-Bo prefers to ply his musical trade in Africa. As a student of the University of Phoenix where he is studying Health Management and Information, the beefy young man merely shuttles between Nigeria and America to meet up with his academic and other challenges there where his parents and siblings currently reside.
''Not much is known about me here because I've been in America ovr the years going to school and pursuing my musical career there. I have a very strong fan base in Texas and New York. But I decided to come home because this is where everything is. America does not show much respect African artistes because we are not from there; so they expect you to go back to Africa," he started.
That, however, does not mean that African acts are not there. ''We have the talents in America who are doing their best but they are not known here. Unfortunately, it's also not easy to return home and hit it big because some people here only want to exploit and dump you. For me, I've made up my mind that I must succeed in my country."
Kola-Bo who left for US during the week, added before his departure that his mission is to restore Africanheritage musically. ''We have gone astray, our heritage has been taken away from us and it is time to rejuvenate and revive ourselves."Ighobaro who hails from Edo State, said that he started music in 2009 in America, returned to Nigeria in 2012 and alongside his twin brother started a music company, Osaze Music Artistry.
On why he plays reggae music (real dance hall), he explained that he grew up listening to the genre of music albeit I've done other brands, my stronghold is reggae.  I don't also want to play something that will for three months and fizzle out, mine is evergreen that can last for decades."Kola-Bo has just dropped his debut album entitled ''Revival", an effort that truly establishes him as a born, dedicated and focused talent destined to attain greater heights in music.
''What makes me unique is my ability to express myself in a very subconscious way. I don't have to think about it, it just comes naturally. I wrote the song ''Revival" at the time when Africa was boiling and under siege in 2014. We must not always use guns to settle our scores but words, to make the world a better place."