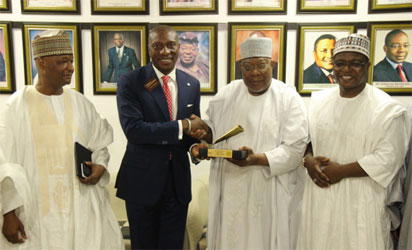 LISTING OF SHARES : From left, Alhaji Musbahu Basir, Director, Jaiz Bank Plc; Oscar N. Onyema, OON, Chief Executive Officer, Nigerian Stock Exchange, NSE; Alhaji Umaru Abdul Mutallab, CON, Chairman, Jaiz Bank Plc and Alhaji Umaru Kwairanga, Director Jaiz Bank Plc at the Facts Behind the Listing at the NSE.
By Emma Ujah,  Abuja Bureau Chief
JAIZ Bank Plc has accumulated funds and is  now ready to massively invest in Sukuk (Islamic bonds) which it is to finance in specific infrastructure projects in the country.
Managing Director of the bank, Mr. Hassan Usman, disclosed this in a press conference in Abuja. Sukuk is a non-interest financial instrument through which investors can finance specific infrastructure projects on equity- holding bases and earn income, accordingly.
His words, "We have grown our capital and taken huge deposits and we want to deploy our liquidity in the direction of products that comply with the ideals of our organization.   One of the few challenges we still live with is that of lack of infrastructure.   No financial instrument in which we invest our excess liquidity.   One very important financial instrument we are waiting for is the Sukuk.
"The federal government through the Minister of Finance promised that the instrument would be ready in the first quarter of 2017.   We are aware that the Ministry of Finance and the Debt Management Office are working on and we are optimistic that this would be ready quickly so that we can deploy available funds in that direction."
Usman said that the bank, being an Islamic bank could not invest in interests yielding instruments and therefore had to wait until Sukuk was ready.
He added that there off-shore funds held by those who share similar non-interests philosophy of Jaiz Bank which could be brought into the country for massive investments in infrastructure projects.
He  added, "Our bank has grown steadily since we started operation in 2012. From a capital base of N5 billion, we have grown our capital base to about N50 billion.   From a deposit of N3. 5 billion, we have grown our deposit to about N60 billion.
"From the initial three branches as a Regional Bank, we have grown into a National Bank with 30 branches across the nation."
Hassan said that awareness was still an issue, according to him, "even some of those clamouring for it (Islamic Bank) didn't understand it.   Some thought it will be a charity organization.
He admitted that more had to be done for members of the society to buy into the bank, explaining that the bank was for people of all faiths and persuasions, adding, "it is vehicle to deliver goods and services.