By Esther Onyegbula
Nollywood film maker's elder brother who was paraded at the Police Command, Ikeja on Friday as an accomplice to his brother said that he was implicated because he didn't visit Seun in custody.
It would be recalled that Seun Egbebe, a Nollywood film maker was arrested on Feb. 2 for allegedly defrauding bureau-de-change operators of $60,000 and presently awaiting trial.
"I was not mentioned in any of the petition against Seun and I go to visit him in custody once in a while even though they don't usually allow us enter.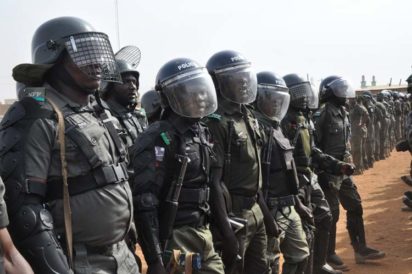 "Suddenly I got a message from him accusing me of going to party instead of coming to visit him.
"He also sent me another message where he accused me of collecting some money meant to secure his release and threatened to make sure I join him there with another friend of ours.
"Later I was called to the police station concerning a petition against Seun and my name was mentioned.
"I told the police to let me meet the petitioner so she could directly identify me but I wasn't allowed." he said.
The Lagos State Commissioner of Police, Fatai Owoseni however told newsmen that investigation led to the arrest of Seun Egbegbe's brother and two others as accomplice.
"The suspects had confessed how they will be in the car and ask telephone sellers to bring phones and methods through which they run away.
"They have also confessed on how they defrauded Bureau-De-Change operators." Owoseni said.
Subscribe for latest Videos