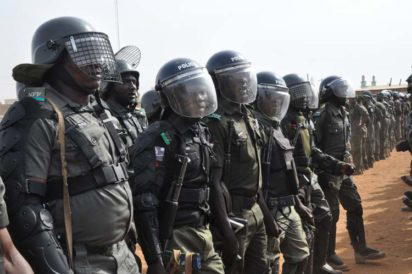 Nigerian Police
By Abdulwahab Abdulah
Twenty-one natives, including a traditional ruler from Ile Ife, Osun State arrested by the police in connection with the unrest between some Hausa and Yoruba have instituted a N1 billion suit against the Nigerian Police, over their alleged unlawful and unconstitutional arrest and detention.
The applicants in a motion on notice filed by their lawyers, led by eminent Senior Advocate of Nigeria, Chief Wole Olanipekun supported by five other silks, including  Ahmed Raji before a Federal High Court, Abuja, are praying the court to declare their arrest and detention by the police without being charged to court since March 8, 2017 as  illegal and unconstitutional.
Led by Oba Adeyemi Ademiluyi, Arikan Apoje 1, the 21 applicants were asking the court to declare  that their detention since March 8, 2017, when they were arrested and without charging them to court was unlawful violation of their right to personal liberty and freedom of movement under Sections 35 and 41 of the Constitution of the Federal Republic of Nigeria 1999.
Therefore they are praying the court for an order releasing them from detention of the police or admitting them to bail in the most liberal terms.
The applicants include Alhaji Abdul Yekini Sakariyau, Akinyonmbo Seyi, Olanrewaju Daniel, Adefisiyan Isaac, Peter Omisope, Adeyinka Akanbi, Adejube Monday, Olanrewaju Adebayo, Elufisan Akintoye, Adekanmi Kehinde.
Others are Elusanmi Bamidele, Obimakinde Samuel, Omisanmi Isaac, Eluwole Kuburat, Eluwole Akeem, Taiwo Fakowajo, Clement Kehinde, Sakiru Jimoh, Abimbola Ayoola and Bello Nahab.
Joined as Respondents in the suit are the Nigerian Police and the Inspector General of Police.
The applicants are asking for an injunctive order restraining the Respondents, its officers, servants , agents, privies or anyone taking instruction from them from further harassing, arresting, detaining or in any other manner infringing on the fundamental rights of the Applicants.
They urged the court to as well grant them a N1 billion  damages for their unlawful and unconstitutional arrest and detention individually and collectively.
According to them, they have since suffered psychological and emotional trauma that their families are being subjected to for almost one month and for unlawfully parading them as common criminals without filing any charge against them talk less of trial or conviction.
They argued that their arrest and parade as common criminals was a violation of their fundamental rights guaranteed under Sections 33,34,35,37 and 41 of the Constitution of the Federal Republic of Nigeria 1999 (As Amended) and Articles 4, 5, 6 and 12 of the African Charter on Human and Peoples' Rights (Ratification and Enforcement) Act Cap 10 Laws of the Federation of Nigeria 1990.
They argued that in spite of their conviction and the fact that they knew nothing about the crisis that happened in Ile-lfe on the 8th March, 2017 the  respondents have refused to release them on bail in spite of the irrespective demand and also refused to charge them to court.
They averred that respondents have vowed to perpetually keep them in detention, while many of them, particularly the 1st Applicant (The Oba) has fallen ill many times.
They submitted that except the court comes to their rescue, the Police  will continue to violate their  constitutional rights, including right to life, liberty, movement, privacy, human dignity and family life.