By Anayo Okoli
UMUAHIA—Governor Okezie Ikpeazu of Abia State stunned leaders and members of Nigeria Labour Congress, NLC, when he rejected their offer to name the state NLC secretariat after him and rather proposed that it be called Abia Labour House.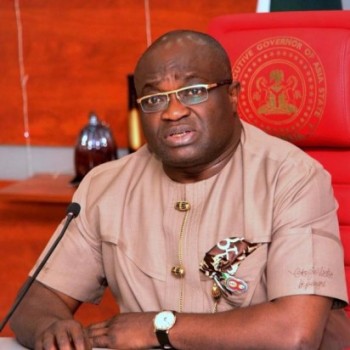 The Abia State Chairman of NLC, Mr Uchenna Obigwe, while speaking at the foundation laying ceremony of the secretariat, said the building should be named Dr. Okezie Victor Ikpeazu Labour House Umuahia, Abia State in appreciation of the governor's magnanimity to labour in the state.
But responding to the proposal while laying the foundation of the building, Governor Ikpeazu said: "I want to say that I appreciate very well, your decision to name this building after my humble self but I am constrained by the policy of this government that you don't take credit on our marks; we wait for gold medals when we cross the finishing line.
"For us today, we are on our marks and the race is just beginning. So, it will be preposterous for us to take the accolade and diadem that should come ordinarily, at the breaking step. So, I will ask you to wait till we brace the tape, it is at that time that I will take up the acquisition of excellency, and also accept awards like this.
"I, therefore, plead and suggest that this house be called Abia Labour House."
He also pledged to support the leadership of NLC to ensure the completion of the secretariat, and announced that Abia State Government would donate N10 million to the project while in his personal capacity will make monthly donation of N2 million till the end of 2017 to ensure the completion of the building.