Chinonso Alozie
Owerri – The immediate past chairman of the National Human Rights Commission, NRHC, Mr. Chidi Odinkalu, said the style of governance in Imo state, under Rochas Okorocha, was not the type of administration the Igbo people needed to move forward.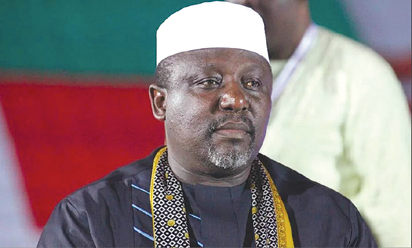 Odinkalu stated this at the first Imo Good Governance Lecture held in Owerri, at the weekend.
He gave as one of his reasons that pensioners in the state were "forced to surrender their money."
Odinkalu said: " On the line question is that how many people are satisfied with the state of Imo state. I remember when the last election was taken place and there were people who were prepared to kill for the governor. I mean the current governor. Where we are today everybody is recounting.
"Pensioners are being forced to surrender their money as a precondition for getting anything at all. Regular workers are being owed and they are required to sign away a significant chunk of their salaries.
"All the so called roads are undone and in tatters and indeed have become a danger to a lot of people and insecurity has risen. The government does not appear to have the attention span of the serious responsibility of government.
"I am sure the government means very well but sometimes we got to admit that people may be on the wrong job and I think he is. I wish him very well but the thing is that we cannot continue to keep the wrong people in the wrong job.
"I say here, Imo state is the most educating state in the country, highly globalized and internationalized. It needs to begin to think of the kind of government of leadership and structure that will reflect the awareness structure of it demographics.
"Listen, if we Igbo are to compete at the Nigeria level in a manner that makes our people rise up with dignity then we can't continue to have this type of level of governance. We got to say no to it."
Speaking also, the past chairman of the Nigeria Electricity Regulatory Commission, NERC, Mr. Sam Amadi, said that Imo people have been "dis-empowered and subdued."
According to Amadi, " In Imo state for example you see that the people are totally dis-empowered. They are not asking critical questions. They are subdued.
"Imo state has the largest number of civil society leaders in the country and helping other states to work and why can't they come home and organize themselves and bring accountability to Imo state.
"We want Imo politics to shift from what it used to be before, the causes of impunity, 419 leaders taken over governance. We want a new order where people with pedigree, competence and accountable to govern the state."