By Gbenga Olarinoye
…As petitioner indicts Hausa youths, ask for N150,000 compensation
Osogbo—The panel of inquiry set up by Osun State Governor, Mr. Rauf Aregbesola, to unravel the circumstances that led to the crisis that ensued between the Hausa and their Yoruba host in Ile-Ife on March 8 2017, yesterday, began its sitting.
The panel, headed by Justice Moshood Adeigbe, during the sitting at Oba Okunade Sijuade Memorial Hall, Enuwa, Ile-Ife, urged the petitioners to assist the panel in discharging its duty within the stipulated time.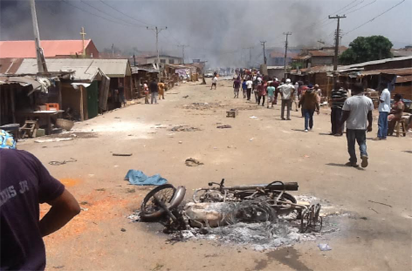 He recalled that the panel was given four weeks to submit its findings to the state government, assuring that the panel would be fair to all the parties concerned.
However, the Secretary of the panel, Bisi Babalola, disclosed that 140 memoranda have been received by the commission.
He said the panel will be sitting everyday so as to meet up with the four weeks deadline, given to it by the governor.
Meanwhile, indigenes of Ile-Ife, yesterday, bombarded the panel with petitions and affidavits, claiming loss of properties worth several millions of naira in the March 8  mayhem.
One of the petitioners, Reverend Rotimi Omisakin, told the panel that his church and shop were burnt by unknown Hausa boys, saying he would need N150,000 to repair the church.
"I was on the prayer mountain when my wife called me that some Hausa boys came to our house and burnt her shop and the church.
"I want to appeal to the government to give me N150,000 that I need to repair my church", he added.
Also, one Rotimi Fabunmi, who claimed to represent his stepmother, alleged that property worth about N480,000 were burnt in his stepmother's shop.
Asked why his stepmother did not appear before the panel, Fabunmi said she was rushed out of the country due to the shock she had when she learnt that her shops were burnt.
He said kolanut and palm oil worth N480,000 were burnt by the unidentified hoodlums during the crisis.