By Gbenga Olarinoye
Osogbo—The remaining five suspects, including Oba Ademola Ademiluyi, arrested in connection with the recent clash between the Yoruba and Hausa communities in Ile-Ife will be arraigned today at an Osogbo High Court.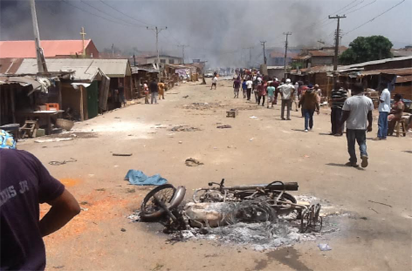 Their arraignment supposed to have come up before justice Kudirat Akano, yesterday, was postponed till today.
The suspects were brought to court yesterday from Ilesa prisons but kept in the black maria until they were returned to the prison around noon.
It was however reliably gathered that the suspects would now be arraigned today before Justice Akano.
Meanwhile, the Judicial commission of Inquiry on Ile-Ife disturbances set up by governor Rauf Aregbesola yesterday continued its hearing when it called another set of 10 people to defend their memoranda.
Professor Muibi Opeloye who represent Aworera family claimed that one of the property of the family located at 27, Moree street, Sabo Ile-Ife, was burnt during the March 8th  crisis which occurred at Sabo area in ile-Ife and requested for N2.1 million on behalf of the family to renovate the building.
Also, an octogenarian Mrs Risikat Fadare who also appeared before the panel to defend her memorandum claimed that she lost everything in her room to the crisis and also appealed to the panel to assist her on compensation.