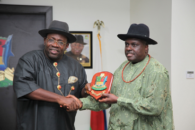 Bayelsa State Governor, Hon. Seriake Dickson (left) presenting a souvenir to the former Governor of Delta State, Chief James Ibori during a condolence visit to the Government and People of Bayelsa State over the death of the first Civilian Governor of the State, Chief DSP Alamieyeseigha at Government House Yenagoa.
By Emem Idio
AMASSOMA— FORMER governor of Delta State, Chief James Ibori, yesterday, said that throughout his travails in the United Kingdom, "nothing touched him more than the news of the demise of my 'twin brother' Chief DSP Alamieyeseigha."
Ibori spoke at Amassoma, country home of the late Alamieyeseigha, when he paid a condolence visit to the widow and the Alamieyeseigha family.
Accompanied by the Speaker of Delta State House of Assembly, Majority Leader, and members of the state House of Assembly, senators, special advisers and top politicians, Ibori said he was in constant touch with Alamieseigha and spoke with him on phone 10 days before his death, adding that they were both looking forward to a happy reunion before his sudden death.
Ibori was received at the family home of the Alamieyesigha about 1:45p.m., by the deputy governor of Bayelsa State, Rear Admiral John Jonah (retd), Alamieyesigha's widow,  Mrs Margaret Alamieyesigha, Alamieyesigha's younger brother, Mr Akpobide Alamieyeseigha, children, political associates, chiefs and elders of Amassoma community.
The visit turned to a carnival of sort, as a cross section of the community came out in their large numbers to catch a glimpse of Ibori and his entourage, while women and youths also took to the streets singing and dancing.
Ibori said: "For those that conspired against him, for those that scandalised his name, for those that betrayed him, now that he is gone, they are ashamed that they scandalised him for nothing."
He promised to always be available for the family and commended the courage of Alamieyeseigha's widow, Margaret, for holding fort and keeping the family together, and urged them to find solace in the fact that the late Alamieyesigha is now resting in peace.