Mayo-Belwa (Adamawa) – Hundreds of hunters from Adamawa, Gombe, Borno, Yobe and Taraba States converged for the annual Talala (oath taking) Festival and fortification of selves in Mayo-Belwa Local Government Area of Adamawa on Saturday.
The annual festival brings hunters together to renew their oath to serve humanity, particularly assisting security agencies in the north east.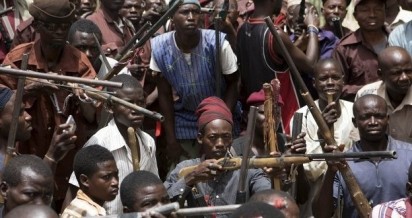 Chairman of Adamawa Hunters Association/Acting Chairman for North East, Malam Mohammed Tola, urged them to remain steadfast in their commitment to serve their communities and father land.
Tola lauded Government and Adamawa traditional council for their support to the hunters, adding that such had gone a long way in facilitating the activities of the hunters in supporting the fight against insurgents in the north east.
The Administrative Secretary of the association, Malam Salihu Buba, said the ceremony was to also fortify genuine members and expose fake ones.
The state Women Leader, Aisha Bakari, pledged the commitment of female hunters to continue to contribute their quota like their male counterparts.
The highlights of the occasion were the drinking of concoction by the hunters for protection and the conduction of rituals on the hunters' Dane guns to function properly against the enemy
Hunters in north-east who have knowledge of the terrain have been assisting the military and other security agencies in the fight against insurgency.