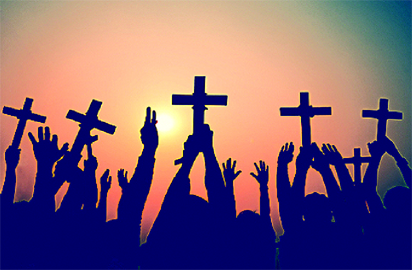 By Sam Eyoboka & Olayinka Latona
TODAY is Good Friday, a day millions of orthodox Christians across the globe commemorate the crucifixion and death of Jesus Christ, with several thousands often seen in a procession through Jerusalem's Old City, retracing the steps Jesus Christ is believed to have taken on the day of his crucifixion.
The pilgrims carrying crosses and praying along the 14 Stations of the Cross often proceed to the Church of the Holy Sepulchre where Jesus Christ is believed to be buried. The name, Good Friday may seem counter-intuitive to many Christians and non-believers, since the day is typically viewed as a solemn one, often observed with fasting and sombre processions.
What is Good Friday and why do Christians call Good Friday "good," when it is such a dark and bleak event commemorating a day of suffering and death for Jesus?
For over 2.18 billion Christians globally, Good Friday is a crucial day of the year because it celebrates what they believe to be the most momentous weekend in the history of the world. Ever since Jesus died and was raised, Christians have proclaimed the cross and resurrection of Jesus to be the decisive turning point for all creation.
Among clerics that admonished Nigerians on this day are; Most Revd Sunday Matilukuro of  First African Church Mission; Most Rev. Adebola Ademowo, the Dean Emeritus, Church of Nigeria (Anglican Communion) and  Monsignor Gabriel Osu- Spokesman of the Catholic Church;
 Embrace FG's whistle-blower policy – Matilukuro
Most Revd Matilukuro has urged Nigerians to embrace Federal Government's whistle-blower policy, saying recent recovery of looted funds was a proof that the strategy was dependable. He said Nigerians should emulate the virtues of Jesus Christ who willingly laid down his life for the redemption of the world.
 Shun vices — Diocesan Bishop of Lagos
Most Rev. Ademowo,on his part, urged Nigerians to shun vices like corruption, kidnapping, stealing and violence.In his message to Nigerians, Ademowo said that all those vices were damaging to the image of the nation.
Also, the Director of Social Communications, Catholic Archdiocese of Lagos, Monsignor Gabriel Osu, in his good Friday message urged Christians to use the period to reflect on and consider ways of alleviating the enormous suffering, insecurity and poverty across the globe particularly in volatile areas like North East Nigeria, Syria and the Middle East where ISIS has continued to send innocent lives to the great beyond on daily basis.