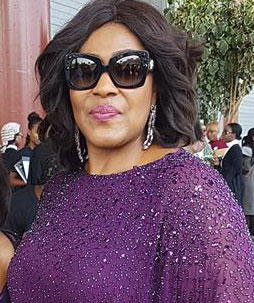 Ngozi Ekeoma
BY  CHARLES  KUMOLU
MANAGING Director of Nepal Oil and Gas Services, Mrs. Ngozi Ekeoma tells us in this edition how getting married at 16 challenged her to become the brand she is today.
Ekeoma, who is a lawyer narrates how her upbringing as the daughter of a successful business man in Aba and her polygamous background, provided one of the models that made her a notable player in the Oil and Gas sector. She oversees Nepal's management activities and has since led the repositioning of Nepal Oil & Gas Services towards becoming a reference point for operators in Nigeria's downstream sector.
YOU are well known as the wife of a wealthy man and the boss of Nepal Oil and Gas Services, can you say more about yourself?
I grew up a happy child. I was well taken care of. I stayed with my parents for a little while before marriage brought me to Lagos. I had my primary and secondary education in Aba. My father was a businessman in Aba, the late Pa Anyaso. One important thing that I knew about him was that he was a very hard working person. One of the things he used to tell his children especially the girls was that we had to be up and doing to support our husbands and our families.
He married two wives and would always use my mother and my step-mother as examples, saying that he was doing well because of the support he was getting from them. He did that especially when he finds you sleeping after 6.00 in the morning.  My father will say that anybody that sleeps after 6.00 am is inviting poverty. He will now go further to lecture us that hard work pays.
So, I grew up knowing that hard work pays. I grew up as a church person.  We were brought up the church way. My step mother will come back from the market to tell us about heaven and hell, right and wrong and we will all be scared thinking that Jesus was coming down and some people will go to hell. I grew up knowing those things I have mentioned which are rare now because parents are too busy to bring their children up in that way because they are concerned about pursuing money while the children are left to watch cartoon and play on the social media. It was a much-knitted family. When people see the children of my step mother and my siblings playing they will think we are of the same mother. My childhood was normal. I did not lack anything even though we didn't have everything.
On early marriage: Because of my background, when I got married at 16, I was able to cope. And I also wanted to do business. I was going to school and was also raising children. And it was not a problem because of the way I was raised. I was raised to know that if I want something, I have to work for it.
On landmarks: I have an experience I want to share. I hope my uncle, who I lived with will not get angry. When my mother felt I was not doing very well in school, she said I should stay with my uncle, who works with Shell. He is a disciplinarian. When my uncle came back from overseas and learnt that I was getting married, he was shocked. He asked why I was getting married at that age that I should go to the university, I said no that I will get married.
While trying to discourage me, he said if I get married that I was going to only have children and become a housewife and will not eventually go to school. He said if I get married at that age, I will not amount to anything. However, when I eventually got married, those words that I will not amount to anything kept ringing in my head. It was not that there was anything wrong in what he said. Maybe he felt that I had potentials that may not be realized if I married early.
Those words were the things that kept me going. I didn't want it to be like 10 years down the line, his words became true. I wanted him to be so wrong. Whenever I took JAMB if I got admission outside Lagos, because of how hard it was to get admission then and my husband would  not allow me to school outside Lagos. At some point, I resolved to take any course I would be given in UNILAG. My uncle's words, which I saw as challenging, kept me going because I didn't want him to tell me that he forewarned me.
Looking back would you say the choices you made paid off?
My greatest achievement is seeing my children grow. A friend of mine once told me that God blessed me with things money can buy and things money can't buy. Indeed, I am blessed with things money can't buy because it gives me joy that I have children, who could not be said to be on drugs or engaged in other misdemeanors. I have been able to raise children that are well behaved and hardworking in their different endeavours.
The second thing that gives me joy is the fact that  I am able to create employment even though I have not met my target which is to have over 2000 workforce. At the moment we have over 200 which include those in the ships, depots, head office and filling stations. That alone has ripple effects in the employment market. These are the two things I had prayed to do well in even though the latter target has  not been fully met. But being able to contribute to somebody' s life gives me joy and I am very happy about it.
You studied law and now head one of the promising downstream oil and gas firms. While studying Law did you know you were going to be an entrepreneur of this ilk or you wanted to practice?
I am a lawyer by training and I am into the downstream by calling or better still by choice. As a  child, I had always wanted to be a lawyer because I was interested in the affluence, respect, and charisma that go with being a lawyer. I used to think there was something like Charge and Bail lawyer until I attended the Law School.
If you passed through Law School, you will know that there is nothing like a Charge and bail lawyer. Even the person that came out of the Law School with a Pass,  must have been drilled because in Law School there is nothing like bribe or cutting corners. Who are you even going to bribe there to get good grades? Coming to Lagos, having children to take care of and coming from my background where my father taught us to be hard working, I knew I had no choice than to be hard working. I was already doing business while going to school. By the time,
I finished my business had already stabilized. So, why leave the business to the professionals?  Law also cuts across every field. In fact, if I had not read Law, I wonder how I will be coping with the oil and gas business that I do. Actually, every aspect of the business I do is Law. I know some people did not read Law and are doing well but if you don't understand the legalities around the business, you will find it difficult.  Looking at practicing Law from the standpoint of not going to court is wrong because even in my business I am practicing Law because of the legal angles of the business.
While responding to some questions you mentioned your father as one of those, who shaped your life, are there other role models, who you can say shaped your upbringing?
I don't know about role models, but I know about things that shaped my life. I also know about things that shaped my life which are my upbringing and my uncle. I don't think those are role models because when you talk about a role model, you have to adopt everything about that person.
But I don't think there was anybody I wanted to be like. I just wanted to be myself,  I just wanted to succeed and assist my family. I started off by wanting to be relevant to my immediate family and to be relevant to the society. When people talk about role model, it sounds like someone wants to be like Dangote, Femi Otedola and others.
Becoming successful
For me, I just wanted to be me. And I want to succeed in what I am doing and I want people to be blessed through what I am doing. So, role models in that sense are not what I admire. However, there are people, who I admire their stories especially those, who come from nowhere to become successful without godfathers. I appreciate such stories because that's actually my story. But I have never looked up to anybody just to be like that person.
On values: One of my cherished work ethic is to treat people the way I like to be treated. In Nigeria, people work but they don't get paid, you provide services to people and will not get paid and they think it is okay. It is not okay. What informed that was that before my business grew, especially when I was doing petty trading, people used to owe me a lot.
And I used to write the names of those owing me in a sales book and I was not happy about it because it was affecting the business. That is why you see some people doing business and their business will not be growing. So, when my business stabilised, one of the things I said I will not do is to treat people the way I was treated. That is why I don't owe service providers. I want to be as honest with people that I do business with, they don't have to know me. With that, we have been able to build a good business model.
Customers know that once their money is in Nepal account, it is either they get their product or they get their money. I see people's money as other people's money. It is not good to hold on to people's money and they don't care if it is generating interest. That was the challenge I had earlier with importers, who then will not deliver your products early. And they do that when market variables had affected the product and by the time you finish selling the products, you will make nothing. I try not to cut corners. I am always on the side of the truth 99 percent of any time. I remember when one of our ships went to make a delivery in Porthacourt and NIMASA penalised the ship. I asked for the name of the NIMASA official and I called the man and told him that he could have asked the crew members to pay the money and go instead of the fine.  I asked him to give us a technical person who will inspect the ship to know those things he said were wrong with the ship and he did that. For me to support somebody in Nigeria who was not interested in collecting bribe, shows that I don't cut corners. Even though the business environment is very frustrating, I try to ensure that I am on the right side of issues every time.