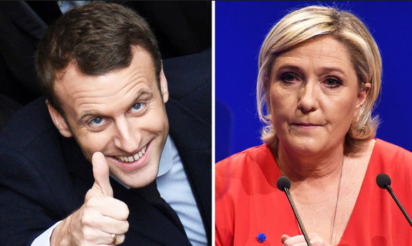 FRANCE LE PEN AND MACRON
French President Francois Hollande said Saturday that voters in France must decide their future in Europe in the May 7 presidential vote pitting europhile candidate Emmanuel Macron against the anti-EU Marine Le Pen.
Speaking at his last EU summit as leader of France, Hollande said the French people had every reason to stay in the European Union, tacitly backing Macron, his former economy minister.
"The French have everything to gain by staying in the European Union," Hollande told reporters at an EU summit to discuss Britain's divorce from the bloc.
France would face only hardship outside the bloc, Hollande warned, saying that without the EU, "there's are no safeguards, no guarantees, no single market".
Outside the bloc, "there is no single currency, which would be a setback and danger for France," the Socialist leader added.
France is in the midst of a bruising campaign in which Le Pen has attempted to wear down lingering resistance to her party's extremist reputation by portraying Macron as an elitist at the heel of an EU dominated by Germany.
Hollande made his remarks shortly after Le Pen announced that if she won the May 7 run-off she would name eurosceptic Nicolas Dupont-Aignan as her prime minister.
To fight euroscepticism, Hollande said Europe must "deserve trust and become a solution to problems and not the maker of problems."