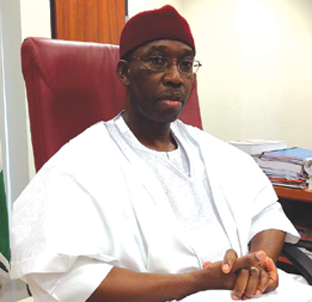 GOVERNOR Ifeanyi Okowa
By Festus Ahon
ASABA—DELTA State Commissioner for Works, Mr James Augoye, has directed contracting firms handling road projects in the state to fast track road contracts awarded to them.
Augoye, who gave the directive while inspecting phase one of the 6.65 kilometres Issele-Uku/Ugbolu/Ukwunzu/Obomkpa/Idu-Ogo Road, stretching from Idumu-Ogo to Obomkpa in Aniocha North Local Government Area of the state, said the state governor, Dr. Ifeanyi Okowa, will soon commence the inspection and commissioning of about 20 road projects in May to mark his second year in office.
He expressed disappointment at the level of work done and  instructed the contracting firm handling the project, which he said got full payment since November last year, to mobilise back to site, adding that the firm would be invited for a meeting before the repudiation process after the usual one week grace.
The works commissioner said that the Okowa administration has made conscious efforts to ensure all contractors were paid, hence there was no excuse for the firms not to be at the sites.
At the phase two of the road project stretching from Onicha-Uku to Ukwunzu in Aniocha North, where a trapezium drain is being constructed for the first time under the state projects, Augoye told the site Engineer to stop the priming process and scarify the entire length of the road where series of cracks were visible on the road's surface.
He ordered that a query to be issued to the zonal chief and superintendent engineer overseeing the road project.
While inspecting the 1.14 circular road made up Council Road, Ogbani and Hezua roads in Akwukwu-Igbo, Aniocha North Local Government Area of the state, the commissioner told the contracting firm handling the project to asphalt the jagged edge at a bend of the Ogbani Road to avoid erosion eating into the road.