By Onome Amawhe
Whenever business jets are parked in remote locations, chances are that investment decisions are being considered. And the decision-makers are bound to fly back out to wherever they are based. Just as there is no limit in the sky, high-level business executives prefer to conduct business without limitations, choosing private jets for their business trips.
Forbes Magazine, in a recent article, gave some compelling reasons why business aviation should be considered an "invaluable business tool." According to the article: "Companies are taking to heart the old adage 'time is money' as they seek increased productivity and profitability, while providing healthier, happier work environments for their employees. And they've found several instances where business aircraft accomplishes both – such as when a sales team has several places to go in a short amount of time, when more than one employee is traveling on the same itinerary, when their destination isn't a major airline hub, or when airline schedules simply don't fit the company work schedule".
The ease to have these jets available without asset risks around the globe are some of the services that ExecuJet provides. At inception in 1991, the company was a small operator of two Learjets in Johannesburg. The growing demand for corporate aviation on the continent and the need to cater to the growth in market culminated in a milestone deal 2015 where ExecuJet was acquired by Luxaviation, Europe's leading business aviation group, based in Luxembourg. The transaction sees Luxaviation acquire the entire share capital of ExecuJet and become the second largest corporate aircraft operator in the world. 
Since operating as a company within the Luxaviation Group, whilst retaining its identity, management team, and operational independence,  ExecuJet has grown globally with FBOs, MROs, aircraft management and charter operations stretching across Australia and New Zealand, through Malaysia and Indonesia to Singapore and on to Tianjin and Beijing. In Africa it has bases at Cape Town, Johannesburg and  Lagos, Nigeria – where it has dual ownership with a local Nigerian partner. 
In the Middle East, it has a major operation in Dubai and Istanbul, Turkey. Across Europe, the company has 11 bases including one in Moscow, and it also has a presence in Latin America. Paul Ludick is the man piloting the Nigeria operations of ExecuJet. In this interview, he opens up about Execujet and the business of corporate aviation.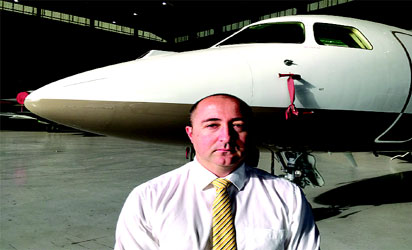 HOW did the ExecuJet
journey begin?
ExecuJet was founded in 1991; its first operation was at Lanseria International Airport, South Africa. Since then, ExecuJet has grown to become one of the world's leading business aviation organisations. Its head office is in Zurich, Switzerland, with offices spanning six regions – Africa, Asia-Pacific, the Caribbean, Europe, Latin America and the Middle East. ExecuJet's facilities in Lagos, Nigeria opened in October 2010 and have grown to include a hangar facility of 5,000sqm, aircraft maintenance services and fixed based operations. In 2015, ExecuJet Group became part of the Luxaviation Group providing access to a global fleet of 260 aircraft.
 What is your reflection on the company's growth?
We have experienced major growth in recent years, mostly due to the fact that we are now part of the Luxaviation Group with access to 260 aircraft worldwide. Our operations and facilities cater for many parts of the world than ever before, and we are responsible for far more aircraft. It is in ExecuJet's DNA to constantly seek ways in which we can grow and improve the services we offer to clients, so we can expect yet more growth in the coming years.
 It is one thing to grow, but another thing to manage growth. How would you describe the growth management of the company?
Growth is welcomed across the Luxaviation Group. We are continually seeking ways to improve our operations and we have recently announced the launch of Luxaviation Helicopters, a dedicated business to offer an unrivalled helicopter charter service.
What drove the decision to enter the Nigerian market?
The very fact that ExecuJet's first operation came out of Africa highlights the demand for business aviation in the region. It was, therefore, necessary for us to introduce more facilities, and Nigeria is well-located on the continent's west coast.
How have client numbers developed in this market?
Growth in client numbers has been very steady, but with recent economic challenges in the region new client levels of plateau.
In what segments are you seeing the growing demand?
We believe in the cost-effective support of the national air force, because despite shrinking budgets, high-standards remain important and we can fulfil this service being in-country or in-region. There is also room to allow more of our regional clients that still fly to Europe, to come and support us in Lagos.
 So where is the business originating? Do you contract with corporate clients directly?
We do have direct contact with corporate clients, but also with the operators who manage the aircraft. Business tends to originate by word-of-mouth from current clients who repeatedly have positive experiences with ExecuJet and the constant positive news stories that get published in trade media outlets.
 How does your pricing compare with the other service providers?
We are very competitive on price and provide further saving to the client where an aircraft does not have to ferry passnegers to Europe or the USA. It's not just the fuel saving, but the maintenance cost for the hours flown, as well as the operational and crew cost for such ferry trips.
 How have your Nigeria operations fared in comparison with the other countries where you operate?
As we all have to comply with international standards, we comply with the same high-standards set by the Luxaviation Group worldwide. Our engineers and support equipment are one of the best in the industry. However, there remains a perception that service delivery in Africa cannot be as good as in other parts of the world. We believe this is a complete falsity only to lure aircraft owners and operators at great cost to other parts of the world.
What is your assessment of the private aviation situation in Nigeria?
It's a very important part of the economy and should be supported from all stakeholders in the industry, especially the government, as there are unfair duties levied on private aviation that prohibits growth, and sometimes forces, clients to fly their aircraft abroad for maintenance support.
What are your thoughts on the African aviation industry, presently, what are some of the opportunities present that did not exist before?
Aviation, as a whole, is still evolving and reliance on each other for support in Africa is a big opportunity with excellent growth and cost saving benefits. Operating in developing markets does pose challenges, but also offers huge opportunities. Aviation is a fantastic tool for economic growth, as it generates business and brings people together. Business aviation plays an important role in stimulating the economy because people don't do business over a telephone or an email, they do it face to face, and in many parts of Africa, air travel is the only method of commuting safely.
Which future development in the private jet industry are you most excited about?
Private flying should not be seen just as a luxury for the rich, but more importantly as a tool for companies to get to a specific place at a specific time. The industry is always changing, so it's certainly an exciting time to be part of this evolution.