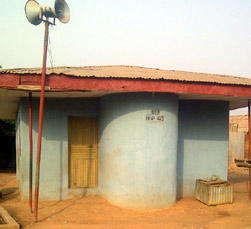 A mosque
Tunis – British DJ "Dax J" has gotten over 200 death threats for using a sample of the Muslim call to prayer in a song that he played at a music festival in Tunisia
The music, which was reportedly played at the Orbit Festival in the coastal city of Hammamet on Friday, caused scores of people to complain online about the musician.
However the DJ Tuesday also apologised for using the Muslim call to prayer in the song at the music festival in Tunisia.
"I want to offer my sincere apologies to anyone who may have been offended by music that I played at Orbit Festival in Tunisia," the artist wrote on his Facebook page, before it was no longer accessible on Tuesday.
One Facebook user wrote that over 200 death threats were made against the DJ on his page before it was closed, while The Guardian newspaper said that the nightclub had since been shut down after the concert.
Organizers of the festival also apologized on social media following the incident, saying that the sound of the call to prayer, or Adhan, had "inspired" the DJ.
"Dax J had no intention of provoking your anger or offending you. It is clear, after his apologies, that Dax J is sincere and has no reason to hurt our dear festival-goers," a Facebook entry said.