Nigerians should turn to the Living God for divine intervention in their affairs to enable them realise the purpose of God for their lives.
Pastor Femi Kayode of the Redeemed Christian Church of God (RCCG), Jesus House Parish, Abuja, gave the admonition in an interview with journalists on Wednesday in Abuja.
He said that turning to God and embracing a lifestyle of holiness based on the word of God was the only way to secure the desired breakthrough.
The cleric stressed the need for divine intervention not only in the life of the individual but also that of the nation at large.
Kayode also said that believers could generate divine attention in their everyday affair if they embrace an attitude of thanksgiving to God for His provision for their everyday needs.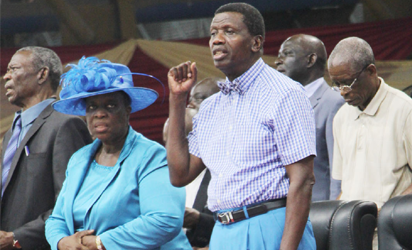 He said the ultimate aspiration of every Christian should be to be a Saint to guarantee a passage to the Kingdom of God.
According to the cleric, a saint is anybody, living or dead, who has accepted Jesus as his Lord and Saviour.
He said that righteousness that is of Christ has been accomplished by Christ on the Cross of Calvary.
Kayode said that the death of a saint is often received with rejoicing in Heaven in honour of a saint that has successfully returned home after his earthly sojourn.
The cleric urged all Christians to do all they can to end their journey as a saint, adding that believers should never lose their focus in the pursuit of  Kingdom matters.