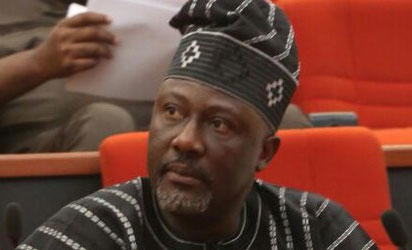 Sen. Dino Melaye
By Emmanuel Okogba
Senator Dino Melaye has been in the news for sometime now. From a certificate scandal to a video mocking his accuser, the latest being an attempt on his life.
According to reports, the Senator escaped death by whiskers when gunmen invaded his house in the early hours of Saturday at Ayetoro-Gbede, Ijumu local government area of the state.
The assailants shot sporadically into the building about 12 am, reports said.
After the rain of bullet that lasted over one hour, two of the vehicles parked within the premises were damaged, while part of the building was also destroyed.
Speaking, Senator Melaye said "I got a rousy welcome from Kabba to my home town yesterday (Friday) and I know it angered the power that be in the state which mobilised for this assassination attempt on my life.
"At about midnight we started hearing gunshot. They fired more than 200 rounds of bullet into the house. This attempt to kill me will not stop me from speaking the truth.
"If I speak the truth I will die, if I lie I will die. Me, I've decided to speak the truth and die. I'm not afraid of death. I only respect men I don't fear them.
"This attempt is being championed by the chairman of my local government. He had said it many times that he will do everything to stop me from coming home. Beside, those assailants when leaving were chanting 'We will know if it's Taofiq that owns the land or you.
"I am championing an administrative course. I will continue to speak and be voice to the voiceless. I'm not deterred, I remain resolute to make Kogi better. Noting will stop me from coming home."
However, the local government chairman, has debunked Dino's claim and asked him to come forth with evidence if he has any.