•Arrest LG Chairman, five others
•'Allegation is stage-managed'
By Kingsley Omonobi-
The Police Force headquarters, yesterday, paraded the Chairman of Ijumu Local Government Area, LGA, in Kogi State,  Mr. Taofik Isah,  and five other  suspects,  for allegedly attempting to assassinate Senator Dino Melaye on April 15, 2017, at his residence at Iyala, Ijumu area of the state.
Other suspects paraded are Ade Obage, Abdullahi Isa, Ahmed Ajayi, Michael Bamidele, and ex-Police Sergeant Ede James, orderly to Chairman of Ijumu LGA, Kogi State.
Addressing newsmen during the parade, Force Public Relations Officer, FPRO, CSP Jimoh Moshood, said five AK 47 rifles, 2 locally made single-barrel shot guns, one Barreta pistol, 25 expended shells of 7.62mm ammunition, 13 expended shells of 9mm ammunition, 12 expended shells guage cartridge and one ambulance Hyundai bus were recovered as exhibits.
"The firearms have been sent for ballistics experts' examination, test and analysis at the Force Criminal Intelligence and Investigation Department, FCIID, Lagos", the FPRO said.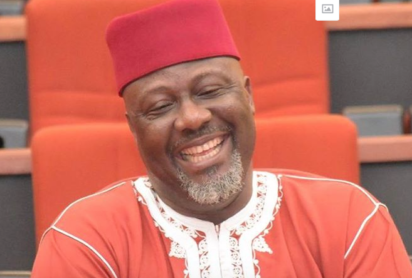 Giving details of the arrest, CSP Moshood said, "In compliance with the IGP's directive on the attack and attempted assassination/murder of Senator Dino Melaye, carried out on April 15, 2017, at Iyala, Ijumu, operatives of the IGP Special Tactical Squad swung into action and after ten days of sustained surveillance, arrested six members of the vicious gang responsible for the attack.
"The suspects and their roles are:
"Taofik Isah – According to investigation so far, he is the mastermind of the executed attempted assassination/murder of Senator Melaye.
"He was alleged to have directed one Abdulmumini, aka Iron, now at large (personal assistant to Isah), who, in turn, recruited other members of the vicious and notorious hired assassins gang, mentioned above.
"Ade Obage – He voluntarily informed the police that he has knowledge and information about the attempted assassination/murder attack on Senator Dino Melaye, after the attack was carried out.   He further informed investigators that he was contacted to join the gang by Abdullahi Eko, a principal suspect in police custody.
"Abdullahi aka Eko – He was arrested and confessed to the crime and admitted to the criminal roles he played along with other suspects in carrying out the attempted assassination/murder of Senator Melaye.
"He also mentioned that they used the Hyundai ambulance bus and five AK 47 rifles for the operation. The ambulance was recovered behind the Ijumu LGA secretariat, in Kogi State".
Continuing, the FPRO said, "Abdulmumini, aka 'Iron', who is at large, is the personal assistant to Chairman, Ijumu LGA. Investigations so far showed that he recruited members of the gang, namely, Abdullahi Eko arrested, Osama at large, Lukeman, aka General/Commander, at large, and China, aka Lie-down-flat, at large, and Adamu Aloha, also at large,  for the attack.
"The suspects jointly entered the ambulance and (headed) to Senator Melaye residence".
CSP Moshood said Abdullahi Isah, aka Eko, confessed to the crime and admitted to have been sent by the Chairman of Ijumu LGA in Kogi State, Hon. Taofik Isah to go an assassinate Dino Melaye.
He added that, "investigation is being intensified to arrest other suspects at large. All suspects will be arraigned in court on completion of investigation".
However, responding to questions from newsmen, Chairman of Ijumu LGA, Isah said, "I think this is a stage-managed arrest. I came to give statement and I was arrested. I have never seen these people in my life".
"Most of these people (suspects), are Ibira people and they have been having their communal problems. I am the ALGON Chairman, Kogi State, as well as Chairman, Ijumu LGA; I will never involve myself in this type of allegation (sic). I was nursing the death of my uncle and my wife was hospitalised".
Asked if he had any problem with Senator Melaye, Isah said: "Yes, we have problem because everybody knows who Senator Dino is. He has been attacking our governor because His Excellency, Governor Bello, refused to pick his people as administrators.
"I went to Dino Melaye, I prostrated before him, urging him not to fight the government so that development will come to Okun land and our people. They are trying to involve me in the Okene/Ibira dispute. I did not call anybody as alleged by one of the suspects".
Continuing, Isah alleged that somebody had earlier made a voluntary confession to Kogi State Police Command that the attack on Dino is a charade.
"The person said Senator Dino Melaye brought some thugs and lodged them in some hotels in Kogi State to perpetrate this action", he alleged.