By Daud Olatunji
ABEOKUTA—The Deputy Inspector General of Police, South West, Foluso Adebanjo has read the riot acts to policemen in Ogun State over accidental discharge, extra judicial killing and corrupt practices.
The DIG, who is in charge of Ogun, Oyo, Osun, Lagos, Ondo and Ekiti states stated this in Abeokuta, yesterday, during a working visit to the state.
Adebanjo who met with the state governor, Senator Ibikunle Amosun in his Oke-Mosan office after which he held a security meeting with heads of security agencies in the state.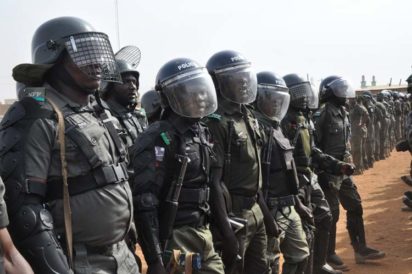 The DIG also met with the officers, rank and file of Police in the state at the state Police Headquarters, Eleweran, Abeokuta, saying any Policeman no mater his status that kills anybody either through accidental discharge or any other means would be tried and dismissed within 24 hours.
He also warned against abuse of human rights of Nigerians, saying, the Police authorities would not tolerate any impunity from any officer or rank and file.
According to him, if a police officer kills anybody illegally, nobody will cover him. He will be arrested, tried and dismissed. We will not condone any killing of Nigerians, because lives are precious to the Police.
Meanwhile, the DIG has described Ogun state as relatively peaceful state with little security challenges.
The DIG said, he had been monitoring the State before he emerged as the DIG, saying, the Police and other security Chiefs in the state should be commended for the efforts.