By Emma Amaize & Evelyn Usman
The Police in Lagos, yesterday, stated that it would not leave any stone unturned in the ongoing investigation to unravel the circumstance surrounding the death of the Fleet Commander, Western Naval Command, Apapa, Rear Admiral Teikumo Ikoli.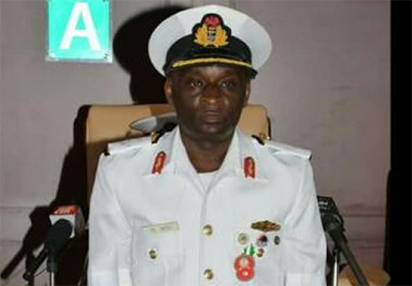 The investigation, as gathered, would include conducting a forensic analysis on the recovered pistol, as well as the expended bullets.
Nigerians woke up, Wednesday, with news of the discovery of Ikoli's lifeless body in his apartment in Apapa area of Lagos, with a bullet lodged in his chest.
While a report had it that he shot himself with his service pistol, another version claimed he was assassinated.
Ijaw group reacts
Part of those who were convinced that late Ikoli could have been assassinated was the Ijaw Peoples Development Initiative, IPDI.
The group, yesterday, called on President Muhammadu Buhari to immediately inaugurate a high-powered investigative panel to probe what it described as mysterious death of the senior naval officer.
National President of the rights group, Mr. Austin Ozobo, alleged in a statement that the Ijaw-born officer was "assassinated by enemies of Ijaw nation, who did all their best to stop him from rising to the rank of Chief of Naval Staff."
According to the group, "we strongly debunk the unfounded media report which claimed that he shot himself. Ikoli did not shoot himself; he was assassinated by an insider.
"It is our candid demand that the Federal Government, through the Office of Chief of Naval and Defence Staff, thoroughly investigate the circumstances leading to the death of Rear Admiral Ikoli."
Police investigation
However, police, yesterday, hinted that part of their investigation would include a forensic analysis of the pistol recovered from his bedroom.
Police sources stated that "forensic analysis will be conducted on the recovered pistol. The bullets recovered will also be analysed to ascertain whether they are those of the recovered pistol.
"Already, the man that raised the alarm has been questioned. Autopsy will also be conducted on the body. We are living no stone unturned, not because the person involved was a senior military personnel, but because it is our constitutional duty."
The Nigerian Navy, on its part, said that police had been invited to investigate.
Contacted, the spokesman for the Lagos State Police Command, Olareinde Famous-Cole, simply stated that investigation was still ongoing.