Emma Ujah,  Abuja Bureau Chief
The Micro, Small and Medium Enterprises sector of the Nigerian economy contributes about 45 per cent of the nation's GDP, but only about 10% of operators in the sector have access to any kind of bank loan, leaving the rest to work with little capital.   Those who are able to obtain bank loans do so on very hash terms of high interest rates and on short-term bases.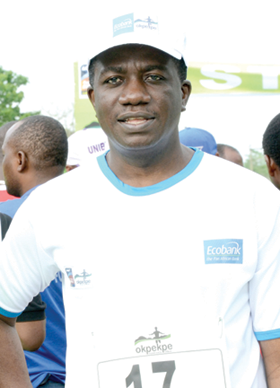 That sector has lower capital, higher cost and yet they are surviving in a very hash economic environment which makes the provision of cheaper finance through lower interest rates and long-term loans key to boosting it and by extension, the nation's economy.
In his maiden interaction with the media, in Abuja, last week, the Managing Director (MD) of the newly established  Development Bank of Nigeria (DBN), Mr. Tony Okpanachi, said the bank with a war chess of $1.3 billion DBN will finance the sector in a sustainable way.   The capital was put together by the federal government, the World Bank and several other development partners across the globe.
He said, "Whatever we do without small businesses, obviously we will not be making much impact. So DBN is set to take that vital place to be able to make a difference in financing MSMEs."
Before DBN, there had been several Development Finance Institutions (DFIs) established by past administrations, many defunct, others existing, but failed to make the necessary impact on the economy.   The question asked, many times, in different ways was "what difference would DBN make?"
Mr. Okpanachi explained: "For us, our model is quite unique in the sense that we are running a wholesale DFI. We are going to partner with Participating Finance   Institutions (PFIs): commercial banks, micro finance institutions and other finance institutions that are going to reach out to the MSME's everywhere across the country.
"What we are going to do is to ensure that we help them in capacity building for them to be able to lend essentially to that sector. What has been lacking in the economy is that the capacity to be able to lend to that sector is a bit centralised and a lot of the studies that have gone into DBN come out clearly to let us know that we need to build capacity in that area to be able to lend to them.
"Secondly we also need to provide long-term funding. DBN is coming with funds with as long as 10 years tenure.   This has never happened in the country and it is going to make a lot of difference. Beyond that, we are still going to create opportunity for them to have moratorium for this 10-year fund. So at the end of it all, we might have funds that would be up to 12 years repayment period.
"We talked about the pricing; the kind of competition that we are going to create within the participating finance institutions is to ensure that the eventual price they create is beneficial and it is going to be very competitive for the MSMEs so that it would be affordable and then become profitable as they run their businesses."
In order to achieve its mandate, the MD disclosed that DBN would run a very lean structure with a very few but competent staff running the bank with maximum impact.
He said that his team would be evaluated, overtime, based on the number of MSME's it is able to impact, describing that measurement model as international best practice.
The MD's words, "First and foremost, we are going to create financial inclusion- access to funding is going to be very key for the end users, the MSME's and all the small businesses, which is lacking at the moment.
"Secondly in doing that we know we are going to create jobs because as their businesses grow they are able to create jobs."
Special opportunities for women.
"Again, specifically, we are also looking at female participation. If you know in the country and overtime it is the practice all over the world, businesses run by women have been very successful. So with DBN, we are going to create that opportunity for women to be able to access those funds and then we can see the multiplier effects as we go on.
"With the PFIs, we are going to see that they give some kind of preferential access to them by way of asking them some key deliverables, some key indices to show how many women have you lend to.   The more women you lend to, the more we encouraged by providing more funds. We will use such indices to ensure that we reach out to more women in our country.
"The next thing we are going to do is something to moderate the risk. Part of the problems of lending to MSME's is the risk factor. We are going to try to de-risk that area and we are going to come out with a credit guarantee scheme where we are going to guarantee up to 50% of whatever risk is being taken by such participating finance institutions and that will help and encourage them to lend more to MSME's.
"For the economy as a whole, we believe that the multiplier effect alone will put Nigeria on a sustainable growth path and then of course the developmental indices that will come cut across. So we believe that DBN is quite positioned to be able to make the difference in terms of lending to micro and small businesses.
Before his appointment as Managing Director/ CEO of Development Bank of Nigeria, Okpanachi was the Deputy Managing Director of Ecobank Nigeria Limited, former Managing Director, Ecobank Kenya and Cluster Managing Director for East Africa (comprising Kenya, Uganda, Tanzania, Burundi, Rwanda, South Sudan and Ethiopia).
He was also at various times Managing Director of Ecobank Malawi and Regional Coordinator for Lagos and South West of Ecobank Nigeria.