…Syria army says six dead in US strike
Oil prices rallied on Friday after the United States launched a missile strike against Syria, sparking fears that an escalation of the conflict in the crude-rich Middle East could disrupt supplies.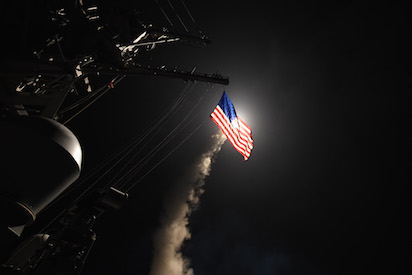 Also six people were killed and serious damage caused by a US missile strike on a Syrian air base in the centre of the country early Friday, Syria's army said.
Both main contracts jumped more than two percent to their highest levels in a month after US President Donald Trump ordered an assault in retaliation for a chemical attack in Syria that Washington blamed on Damascus.
However, the gains were pared through the day and by 0745 GMT the US benchmark West Texas Intermediate was up 78 cents at $52.48 a barrel while Brent crude was up 76 cents at $55.60.
"The situation remains fluid in Syria at the moment as the implications of the massive cruise missile strike from the United States gets digested," said OANDA senior market analyst Jeffrey Halley in a note.
"Among the most pressing questions will be: is this a one-off attack and are other nations going to join in? What will be the response of Iran and Russia — two of the world's largest oil producers and staunch allies of the Assad regime?"
Sukrit Vijayakar of Trifecta Consultants said the crude oil market is likely to hold on to gains over the next few months.
"For now, early this morning they have been given a fillip as news of the US firing missiles at Syria has propelled prices higher by over $1 a barrel," he said.
The jump in crude prices boosted Asian energy firms, with Hong Kong-listed PetroChina jumping more than two percent, Australia's Woodside Petroleum 1.3 percent higher and Inpex in Tokyo surging four percent.
However, Ric Spooner, chief market analyst at CMC Markets in Sydney, told Bloomberg News: "We're seeing a risk response to the airstrike. Given rising supply, the size of inventories and the extent of the pick up in shale output, it does seem likely that price gains will be capped."
The military strike ordered by US president Donald Trump targeted radars, aircraft, air defence systems and other logistical components at a military base south of Homs in central Syria.
The attack comes two days after a suspected sarin attack ordered by President Bashar al-Assad, which Trump has described as "very barbaric".
While Syria is not a major oil producer, it borders Iraq, OPEC's second-largest crude producer.
Oil prices have struggled to hold above $51 a barrel owing to concerns about an OPEC-led output cut put in place in January as part of a drive to address a global supply glut and overproduction.
There are also worries that prices above $50 will encourage US shale producers to ramp up production as it becomes more cost-effective.
Syria army says six dead in US strike
Six people were killed and serious damage caused by a US missile strike on a Syrian air base in the centre of the country early Friday, Syria's army said.
"At 3:42 am (0042 GMT) the United States carried out a flagrant aggression with missiles against one of our airbases in the central region, killing six people and wounding a number of others, and causing significant damage," a spokesman said, reading from a statement on state television.
He did not specify whether the casualties were civilian or military, and gave no further details on the damage caused by the attack on the Shayrat Airfield in Homs province.
The Syrian Observatory for Human Rights, a Britain-based monitor, said seven Syrian military personnel had been killed in the strike.
The attack was the first direct US military action against President Bashar al-Assad since the start of Syria's war in March 2011.
It came after a suspected chemical attack against a rebel-held town that killed at least 86 people and left dozens more suffering convulsions, vomiting and foaming at the mouth.
Syria's government and army denied any use of chemical weapons or involvement in the incident.
"The high command of the army and armed forces confirms that its response will be further determination to pursue its national duty in the defence of the Syrian people and to crush terrorism wherever it is," the statement added.
It accused Washington of being allied with jihadist groups like the Islamic State group, and said it was seeking to "justify this aggression" by pointing the finger at Damascus for the suspected chemical attack "without knowing the truth."