… Says EFCC's action was illegal, unconstitutional and unorthodox
By Bartholomew Madukwe
A Federal High Court in Lagos,Monday, described freezing of the Chamber's account of human rights lawyer, Chief Mike Ozekhome SAN, by the Economic and Financial Crime Commission, EFCC, as diabolical.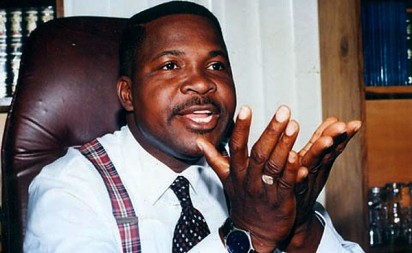 The trial judge, Justice Abdulazeeez Hanka, who upheld Ozekhome's action, said the action of EFCC was illegal, unconstitutional and unorthodox, for freezing the lawyer's Chambers account into which N75m was paid by Governor Ayodele Fayose of Ekiti state, as part payment of his professional fees for eight cases the lawyer is currently handling for the governor, his friends and aids.
This development makes it the seventh time in 12 months that Ozekhome has defeated the EFCC in a judgement.
In his judgment, Justice Hanka, wondered what right EFCC has to freeze a lawyer's professional fees, despite it being paid from a Court -ordered defrozeen account.
Holding that he cannot sit on appeal over the judgement of justice Taiwo who defreezed the account, nor over the proceedings of the Court of Appeal to which EFCC has since appealed, Justice Hanka agreed with the submissions of Ozekhome, who appeared for himself, and dismissed the submissions of EFCC Counsel, Mr Rotimi Oyedepo.
Vacating his earlier order obtained ex parte by the EFCC on February 7, 2017, the judge held that a party against whom an ex parte order has been made is perfectly entitled to have the order vacated and that such dues not amount to shielding his client from prosecution.
The court also held that there is evidence that the payment of the professional fees was not proceeds of crime or of money laundering.
After reviewing all submissions and authorities cited, the judge ordered the attached account defrozeen and made operational immediately.
Ozekhome praised the judge for exhibiting rare courage and upholding the rule of Law and the fundamental rights of Nigerian citizens, even in the face of clear intimidation of the judiciary and browbeating of judges.
Subscribe for latest Videos