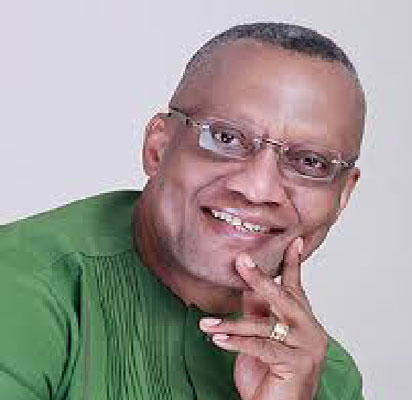 Pastor Peter Unoarumhi
The founder of Cornerstone Anointed Church of Christ, Pastor Peter Unoarumhi, a Philosophy and Religious Studies graduate of University of Ibadan, has described the Church as an influential institution that has an essential role to play in curbing corruption in Nigeria. In this interview with Olayinka Latona, noarumhi who outlined the challenges faced by his denomination and other issues, appealed to fellow religious leaders to use God's grace to disciple responsible Christians that will show forth the incorruptible glory of God in the society and bring about the desired change Nigerians long for. Excerpts:
Salvation experience
I was working as Marketing Officer in Lagos when I ran into my former girl friend, who was looking for accommodation close to my residence in Anthony Village. She was an actress. While in school I was a member of the Pirate Confraternity. Cancer struck this my girlfriend and I was there for her throughout the ordeal even when doctors predicted she had only two weeks to live. Her condition was getting worse and it was at that moment that somebody introduced us to a doctor who does not charge money but would heal her of the sickness. We ere naturally excited only for the fellow to tell us the doctor was Jesus. That was the beginning of my Christian journey. My girlfriend was eventually healed of the cancer. When she returned from UK, we got married as born again Christians. We travelled abroad and we started this church in America in 1992 while I was doing M.Sc in Missions from Abilene Christian Univer-sity, Abilene, Texas, USA.
Cornerstone Anointed Church was founded 22 years ago, during Easter with a mission centred on Jesus Christ. We preach messages of hope, peace, holiness and most importantly of love that is expressed through our Lord Jesus Christ who came to save us from our sins and grant us new life which is eternal life.
The church started in our living room with devotional study. I had the problem of wanting my wife to join me because she wanted her own devotional different from mine. Eventually, she joined me and later when we had a baby, we became three members with some people joining later. When we got back to Nigeria we also began with a devotional study in our living room from where we moved to our garage and later added an extension outside until we started putting canopies outside. Thirteen years after, the Lord gave us our present location.
What will you say has been the impact of the church on members?
The church exists to equip the saints of God as ambassadors of Jesus Christ who Christ has commissioned to bear fruit and render services as they manifest the manifold wisdom of God through grace given them and displayed through the church. The impact is not in the numerical side but in the character of our members—people's values have changed. A lot of people have discovered that they were living with the wrong values of life; being materialistic and concentrating on things on earth. A lot of our members are characterized by the nature of Jesus Christ and they are living for eternal purpose. The change is more of the spiritual than the physical. There have been physical changes as well which include outstanding miracles, testimonies, financial break-through amongst others.
The theme of our 22nd anniversary is; "Live for Jesus." We are celebrating life for victory even when we die, death becomes an opportunity for transmission into eternity. It is important to prepare to meet Christ for the eternity that is beyond calendar. It is important not to allow the things of this world to take our focus from living here than to reign with Jesus Christ in eternity.
How will you assess the anti-corruption war of the Muha-mmadu Buhari administration?
The world is corrupt and it is passing away so fast with its evil desire. Nigeria is not different from the world. Anyone that wishes Nigeria well must support the anti-corruption drive of the present administration. Corruption has dealt so much deadly blows to our nation, and every attempt aimed at fighting this deadly disease must be commended.
Does the Church have a role to play in the anti-corruption war?
According to the Bible, the Church is very significant in the change that will happen in the society because it is supposed to be the light in the world. The Church ought to be in the fore-front of the anti-corruption war. We are supposed to play a very crucial role in changing our society for the better. It is not enough for a minister of the gospel or a Christian leader to say what Christ says but to live the life and that is where the power lies. It is high time we looked at ourselves and purge ourselves, where necessary, and reposition ourselves to lead our people towards the right direction…making Nigeria better and greater.
Your view about government's whistle-blowing programme…
Any decision to blow whistle on fraudulent activities of individ-uals in the society should be embraced and all the recoveries we've been making are al the handiwork of Jesus Christ because He loves this country. Despite the fact that some people want to destroy this country by what they amass, God is still faithful to us as a country. God has plan for this country and He is making all these recoveries and I believe that because God loves this country, He is not letting the destiny of this country to be in the hands of the wicked.
Do you see Nigeria coming out of recession soon?
If Nigeria comes out of recession, it does not solve the nation's challenges. The problem of Nigeria is not recession but Godlessness. As long as God is not given His proper place, we will still be confronting challeng-es. If we truly fear God, recession will not take place in the first place. Recovery from recession is not the ultimate solution to our challenges; it is not good to chase the wind. It is very important to major in the major and that is for Godliness to be the focus of all Nigerians and the world at large. The solution to our challenges is God; we should return to God and forsake all forms of godless-ness.
A word of encouragement for our leaders and followers
Those entrusted with the leader-ship of the country should lead with the fear of God, think about the well-being of the citizens, imbibe the spirit of servant and not be bossy. They should dis-charge their responsibilities with humility in order to reduce the hardship Nigerians are exper-iencing. If our leaders are truly serving us, we will experience abundance in our economy and there will be peace in the country.
To the masses, it is always easy to follow the leader; the problem of life is not always the followers, but the leaders. When the truth is modelled by the leader, the followers are persuaded and they stick out their life to follow.