By Sharonrose Robert
Femi Aleghe , a member of staff of Chi Limited , manufacturer and marketer of different kinds of fruit juice, resumed work last Sunday , at the Milk procession section of Chivita like every other day.
Having worked for a while, he retired to a corner to rest before continuing with the night shift, only to doze off. But this turned out to be his greatest undoing , as he never woke up to continue with his work as envisaged.
Sadly, as you read this piece , the body of the 27 year-old man is lying six feet below.  Crime Guard  gathered while that he was sleeping with some of his colleagues, a folk lift which was working in the section, mistakenly hit some pallets that were stacked, causing them to land right where Femi was sleeping, smashing his head.
The impact of the scattered pallets threw those on night shift into panic as they fled in different directions for safety. Unfortunately, Femi was not among those who ran out. On further checks, he was discovered on the position he laid, unable to move.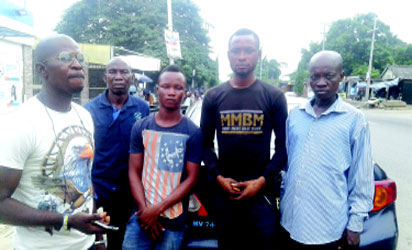 He was rushed to the company hospital in Ajao, from where he was transferred to the Lagos University Teaching Hospital, LUTH where doctors confirmed him dead.
Meanwhile, back at his elder brother's home at Bakare street , in Ikotun area of the state where Femi lived, apprehension set in when he did not return home at the usual time. As the family members were contemplating on what to do, some strangers walked in to inform that their brother had been involved in an accident!
Two members of the family as gathered, followed the strangers to LUTH where news of Femi's death was broken to them.
Femi buried
The remains of Femi were interred Thursday at the Atan cemetery, Yaba . Those who attended included few family members and some of his colleagues from Chivita.
When  Crime Guard  visited Chivita Tuesday, business went on as usual . Efforts to speak with some of the casual workers and staff proved abortive as they claimed that they could be sacked if found speaking with journalist on the incident.
But it was gathered that management of the company had met with the bereaved family , where the former promised to compensate the latter over the incident.
Crime Guard reliably gathered that the burial of Femi which was earlier slated for Wednesday was delayed till Thursday , in order to allow both parties( Chivita and Aleghe's family ) reach an agreement. Part of the agreement as learned, was a written undertaken by the company to compensate the family within one month. But the amount was not disclosed.
A member of the Aleghe's family who spoke with Crime Guard, Peter said " We are mourning. We have lost one of our sons. Before leaving my house that fateful night , he ate , completed his chores before informing us that he was going to work.
We expected him back next day as usual, until we were informed of the unexpected. He was a young man with prospects. It is unfortunate that things happened the way they did".
However, effort to get the company's reaction through one of its consultants , Ugo Soulcom failed as calls made to them were not responded , neither was a text message sent replied.