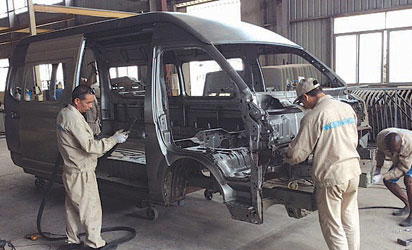 A vehicle being assembled at Innoson plant
By Olalekan Bilesanmi
NIGERIA car producer, Chief Innocent Chukwuma has called for concessionary electricity tariffs for local manufacturers, describing the stagnation posed by prohibitive cost of power to manufacturing as "big threat to national development."
Chukwuma, Chairman, Innoson Group, makers of Innoson Vehicles who lamented this while sharing his experience with newsmen recently said the Nigerian manufacturing sector is headed for total collapse if government fails to intervene.
He said, "One section of our factory pays 25 million naira in a month. If we engage the entire machinery, the bill goes up to 40 million. We resorted to working with what we can bear. They charge very high tariff, making the factory not to do well.
"There are some equipments we have perfected arrangements to bring in to localize making more items in the production line, but because of the high electricity tariff we are restating in pushing expansion because it cannot work. We thought funding was the biggest challenge. It has turned out to be high power cost."
Chukwuma, who said his firm is the only one still standing out of some 40 licensed local manufacturers of automobiles, noted that government would have reawaken the dying investment and manufacturers culture in Nigeria and strengthen the economy when it offers electricity tariff subsidy to manufacturers.
"If government really wants Nigerians to advance in technology and stay strong on international trade, it will give all the support at ensuring passionate players like us continue to survive. Electricity tariff is killing manufacturing. Government should look into it", he stated.
"If they can make the tariff rates for manufacturing and residential houses same in charges, it help us bear the cost of the light and maximize production. Now when it gets to manufacturing, they multiply by 10. It is difficult. In other countries, the manufacturing rate is cheaper.
"When they bring in such concession, others will see that government is supporting, then more people will join and when more people join in the nation's manufacturing sector, I think the issue of Nigeria's problem will be resolved.
"This is the issue holding young manufacturers. We have established some young ones with requisite capacity and material support to take charge of some aspects of the production line after-sales services while increasing the level of jobs we create with our efforts, but the problem they seem to be having is the electricity tariff."
On the comparative advantage of Innoson vehicle models to foreign brands, the automobile investor said, "We know the Nigerian terrain, so we fit our range of vehicles with reinforced radiators and shock absorbers. That is what you will no find in foreign brands."