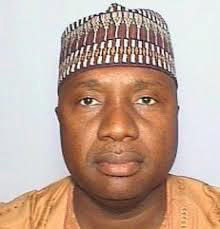 Gov. Mohammed Bindow Jibrilla
Gov. Muhammadu Bindow of Adamawa has disassociated himself and his administration from reported threat to quit the ruling All Progressives Congress (APC).
Newsmen recall that recent media reports quoted Alhaji Abdulrahman Abba-Jimeta, the Chief of Staff to the governor as saying that the state-led APC government may be forced to leave APC.
He had said this measure might be taken if the party's national secretariat did not address the problem of its (Adamawa APC) marginalization by the national body on issues regarding the party in the state.
The Governor ,who spoke through the Commissioner of Information and Strategy, Malam Ahmad Sajoh, told newsmen Saturday in Yola that the media, which ascribed the statement of the Chief of Staff to the governor, were not fair to the governor, who had spoken  at that occasion and declared his full support to the party.
"What Abba-Jimeta said was his personal opinion and the governor did not waste time in countering him at the event.
"The way the story was presented by the media is not fair to the governor.
"Whatever a governor's aide said cannot supersede what the governor said at an event; we must subscribe to what the governor said as it override whatever his aides say.
"We are loyal to the party; we are loyal to the leadership of the party and we are loyal to President Muhammadu Buhari," he stressed