BY ROTIMI AGBANA
No doubt, seasoned songstress, Yinka Davies knows her place in the rank and file of hit-makers in the Nigerian music industry. Arguably, she falls into the class of Nigerian artistes who are described and referred to as the old school generation of artistes; but she is quick to refute being described with the appellation.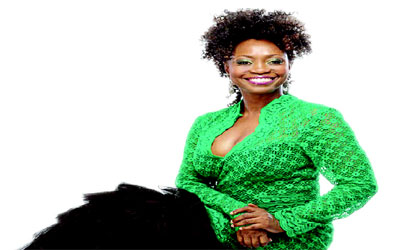 In a chat with Potpourri, she blames the problem in the Nigerian music industry on the inability of entertainers in her generation not to have built a viable structure for the younger generation of entertainers to build on. She advised that people should not blame the present generation of entertainers for what is currently obtainable in the industry because it isn't their fault. According to Yinka Davies, the entertainment industry would have been far better if her generation of entertainers had built a formidable structure long before now.
In her words: "The mistake we made was not to build a structure that people would meet and follow up from where we stopped; there was no structure, you know how bad it is when there is only one noise, you hear only noise, when you don't hear any other facet of sound. Nigeria is richly endowed with sound, from every nook and cranny of Nigeria, the villages, the streets, the roads, the leaves; they all sing songs that you can hear. There is nothing like old school generation and new school generation of musicians. When they call us and our music old school, it's not to discredit it; it is to give it credence and respect. We call it old school not because we've made them immaterial, that is a very wrong notion. What I'm saying is that we already have a structure issue on ground, I tell everyone, don't blame the younger generation for whatever it is they are doing, you can't blame them".