Barclays chief executive Jes Staley is facing a probe by regulators and a "very significant" pay cut after he tried to uncover the identity of a whistleblower, the British bank revealed on Monday.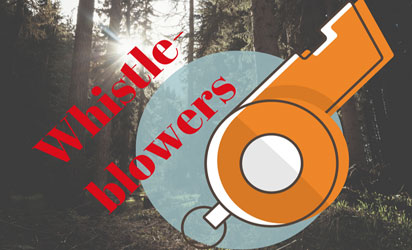 Former JP Morgan investment banker Staley was appointed two years ago to repair Barclays' reputation, which was ravaged by foreign exchange and Libor interest rate rigging scandals.
The 60-year-old American has demanded the highest ethical standards from staff at the trouble bank, which faced massive fines in recent years over the manipulation of forex trading and Libor.
British regulators have now launched an investigation into Staley's "individual conduct and senior manager responsibilities relating to Barclays whistleblowing programme", the bank announced Monday in a statement.
The probe will focus on "an attempt by Mr Staley in 2016 to identify the author of a letter that was treated by Barclays Bank PLC as a whistleblow".
In addition, authorities will also examine the bank's responsibilities relating to Staley's attempt to identify the whistleblower, as well as group systems, controls and culture relating to whistleblowing.
The investigation will be carried out by Britain's Financial Conduct Authority (FCA) watchdog and the Prudential Regulation Authority (PRA). Barclays said it will cooperate fully.
In addition, the case also faces scrutiny from the Department of Financial Services in New York, Bloomberg reported, citing a person with knowledge of the matter.
Barclays issued a "formal written reprimand" to Staley, in light of the "serious nature" of the matter — and will make a "very significant compensation adjustment" to his pay.
Barclays' annual report published earlier this year showed Staley's total remuneration for 2016 was £4.23 million ($5.24 million, 4.95 million euros), including an annual bonus of £1.32 million that looks set to be cut for 2017.
The bank's board has accepted Staley's explanation that he did not know he was not allowed to try and identify the whistleblower.
The CEO has apologised to the board and accepted its findings.
"The board has concluded that Mr Staley made an error in becoming involved with, and not applying appropriate governance around, the matter, and in taking action to attempt to identify the author of the letter," Barclays said.
"The author of the letter was not identified and no further action was taken. Mr Staley has apologised to the board for his error."
– 'Very disappointed' –
An anonymous letter was sent to board members last year raising concerns about a senior employee who had recently been recruited, including issues of a personal nature, the bank explained.
Staley requested that the bank's Group Information Security (GIS) team find who wrote the letter which he viewed as "an unfair personal attack on the senior employee."
The board found out about Staley's actions early this year and instructed an external law firm to investigate, as well as informing the FCA and PRA.
"I am personally very disappointed and apologetic that this situation has occurred, particularly as we strive to operate to the highest possible ethical standards," said Chairman John McFarlane.
Following Monday's news, Barclays shares fell initially but have since rebounded to show a 0.6-percent gain in early afternoon deals.
"This is undoubtedly an embarrassment, not to mention a distraction, for Barclays and its CEO," noted Hargreaves Lansdown analyst Laith Khalaf.
Staley — whose predecessor Antony Jenkins was sacked in July 2015 — declared at the time that he would "preserve and enhance" trust in the lender.
Jenkins had been in the job since July 2012 when he replaced Bob Diamond — who himself was forced to resign after the Libor affair.
In May 2015, Barclays was hit with a $2.4-billion (2.2-billion-euro) fine by US and British regulators for manipulation of foreign exchange trading. Five other global banks have also been fined over the scandal.
Back in 2012, the bank was fined £290 million (401 million euros) by British and US regulators for attempted manipulation of Libor and Euribor interbank rates between 2005 and 2009.
In January last year, Barclays axed 1,200 positions at its investment bank, exiting Russia and closing offices across Asia.