Arsene Wenger insists he still retains the support of his Arsenal FC flops after they crashed to a dismal 3-0 defeat at struggling Crystal Palace on Monday.
Wenger's side suffered their heaviest league loss of a wretched season as goals from Andros Townsend, Yohan Cabaye and Luka Milivojevic blew away the lacklustre Gunners.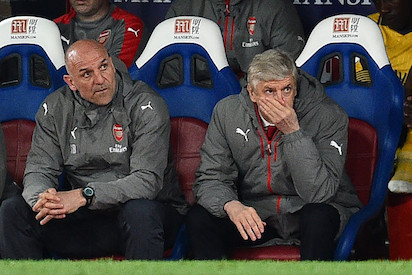 Arsenal were so limp for long periods at Selhurst Park that the club's legendary former striker Ian Wright claimed Wenger had lost the backing of his squad.
"At least I f*****g tried! That dressing room is lost. Brilliant stuff Palace," Wright tweeted.
Suffering a fourth successive away league defeat for the first time under Wenger, sixth placed Arsenal are seven points behind fourth placed Manchester City in the race to qualify for the Champions League via a top four finish.
Furious Arsenal fans chanted "Arsene Wenger we want you to go", while his players weren't spared either as "you're not fit to wear the shirt" rang around Selhurst Park.
But the Arsenal manager was adamant his underachieving stars remain on his side.
"I don't think my players didn't want it, but we lost duels in decisive moments and that's how games are decided at this level," Wenger said.
"I understand our fans are disappointed and we all are deeply tonight. It's very worrying and disappointing the way we lost the game.
"We prepared and everyone prepared well. It's difficult to explain just after the game.
"It's damaging, of course. On that front that is the most difficult for us. It has consequences on our chances to be in the top four. We are in a difficult position."
Wenger has yet to reveal if he will sign an extension to the contract that expires at the end of the season.
But, asked if the uncertainty about his future is affecting the players, he said: "No, I don't think so.
"I'm not in the mood to speak about it. At the moment I pay more respect to the fact we had a disappointing result.
"Every defeat is a big worry. I've managed over 1,100 games for Arsenal and we're not used to that.
"Unfortunately it is like that and we have to respond very quickly and not accept it.
"I'm disappointed and determined to put things right. Tonight the worry is not me, it's the fact we lost a big game."
Suffering such an embarrassing result at the hands of his old rival Sam Allardyce only added to Wenger's woes and the Palace manager didn't waste the chance to take a few jabs at the Frenchman.
"We all know Arsenal are going through their worst spell for years," Allardyce said.
"Tactically the players were aware of how to beat Arsenal. The first thing was to defend and frustrate them.
"Arsenal have been weak defensively, they leave the centre-backs exposed. Everything worked perfectly for us."