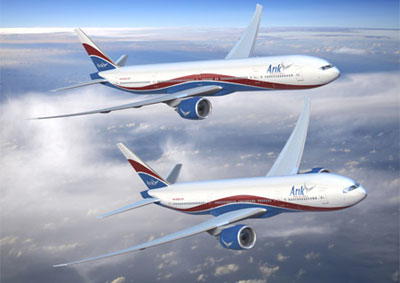 Arik Air
The Receiver Manager of Arik Air, Mr Oluseye Opasanya (SAN), said the embattled airline was indebted to its trade and finance creditors to the tune of N375 billion.
Opasanya made the disclosure in an affidavit filed in support of the airline's receivership by the Asset Management Corporation of Nigeria (AMCON), before Justice Muhammed Idris of a Federal High Court in Lagos.
A copy of the document filed on April 11 was obtained by newsmen, in Lagos on Wednesday.
AMCON had on Feb. 9 taken over Arik Air as a result of its huge debt profile and thereafter appointed Capt. Roy Ilegbodu to manage the airline under the receivership of Opasanya.
In the affidavit, Opasanya said the Federal Government underestimated the rot at the airline before the takeover, which according to him was mind-boggling.
"In the course of the receivership, AMCON has received diverse claims from financial institutions, service providers, suppliers, airport and aviation authorities, insurance providers, governmental agencies, employees, pilots and many others in excess of N300 billion, allegedly owed by the former management,
"As a matter of fact, the salaries of the expatriate and local staff of Arik Air were unpaid since October 2016 and July 2016 respectively", he said.
Opasanya explained that while N300 billion was owed on one hand to numerous local and international creditors, €31 million was owed to the Lufthansa Technik Group and $6.5 million to aviation authorities in the West Coast of Africa.
The receiver manager listed some other debts owed by Arik Air to include Insurance Policy (N418. 89 million), National Pension Commission (N4. 59 billion) and Zenith and Access Banks (N28.347 billion).
He said it also included Amadeus Marketing Nigeria (N632. 49 million), Marriot and Best Western Hotels (N3. 8 million), undocumented bank loan (N2 billion) and the Federal Airports Authority of Nigeria (N11. 21 billion).
Others are Export Development Canada ($53.43 million), Sky Enterprises LLC ($30 million), FAAN ($942.14 million ) World Fuel Services Inc ($26.55 million) and loan from Prince Arthur Ezenwa ($2.5 million).
Opasanya said the airline owed the United States Internal Revenue Service and the United States Customs $987,170 and $311,888 respectively.
According to him, Arik Air under the erstwhile management also owed N100.36 million to Heathrow Airport and N121. 45million to Her Majesty's Revenue and Customs.
He said Arik Air currently had only five aircraft in operation out of the 28 aircraft in its fleet due to the negligence of the former management who failed to maintain them when due.
Opasanya further disclosed that AMCON had injected N1.5 billion into Arik Air since the takeover because the airline was still unable to generate sufficient cash to cover its operating costs.
AMCON's spokesperson, Mr Tony Nwauzor, said "AMCON took over Arik Air to underscore government's decision to instil sanity in the nation's aviation sector and prevent a major catastrophe that protected and preserved the airline.
"The takeover would enhance the value of Arik, improve customer experience and sustain the safety, reliability and secure its operational history.
"Arik was in a precarious situation largely attributable to its heavy financial debt burden, bad corporate governance, erratic operational challenges and other issues.
"They required immediate intervention in order to guarantee the continued survival of the airline."